Donations
Your contribution will encourage me to create more helpful website content and respond to email. I accept donations in several forms in order of preference.
Cryptocurrency
BTC: 177shLJzWmDT1Hij2FpyQ8AX8QMMQfzYDp
Paypal
Click on the Donate button and you will be directed to a Paypal site to conduct the transaction.
Check
Simply use a personal or company check drawn on a bank located in the United States, make it payable to Doug Vetter, and send it to: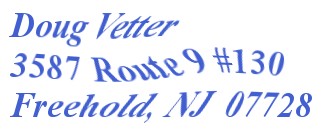 Privacy
In the interest of privacy (yours and mine) I do not reveal the identity of those who donate to this site or the amounts received though I do keep a list of those who donate because they get priority handling in email.
Please note that if you donate via cryptocurrency your donation will be totally anonymous. I will not be able to associate the donation with you specifically unless you send an odd amount (like 1.38493899) and forward that to me in email. This is optional, however. You are not required to send me email when you donate and the only real benefit for doing so is email handling priority, so if you don't care about that feel free to remain anonymous.
If you need help with the transaction or have any questions, please email me before proceeding.
All donations are non-refundable. If you submit a donation, you accept this policy.