Donations
I accept donations via Check or PayPal. Because Paypal charges me a fee to receive funds I prefer to receive payments via check, but I'm happy to accept either method and thank you in advance. Your contribution will encourage me to create more helpful website content and respond to email.
If you wish to write a check, simply use a personal or company check drawn on a bank located in the United States, make it payable to Doug Vetter, and send it to: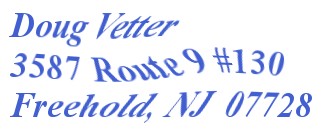 If you wish to pay via Paypal, click on the Donate button and you will be directed to a Paypal site to conduct the transaction. While the exact donation amount is left up to you, please consider a minimum donation of $10, otherwise PayPal's transaction fees will consume a disproportionate share of the funds.
If you need help with the transaction or have any questions, please email me before proceeding.
In the interest of privacy (yours and mine) I do not reveal the identity of those who donate to this site or the amounts received.
All donations are non-refundable. If you submit a donation, you accept this policy.