The Chosen Equipment
Futaba 9ZHPS Radio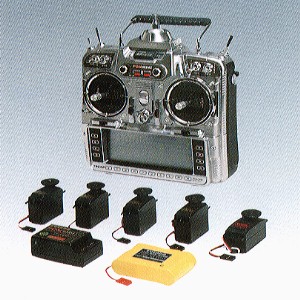 I chose the Futaba 9ZHPS because of three reasons:
1) The 9Z remains the state of the art in helicopter radios. Below is a condensed feature list:
9 Channels (including channel selection order)
10-Model Memory (upgradeable to 16 via a memory module upgrade)
8-character model names
Up to 8 flight conditions for each model
5 programmable mixers with advanced functions for each model configuration
Independently programmable flight conditions
Flight condition and channel delay settings
Ready for aircraft, helicopters, and sailplanes
Ball bearing control sticks with adjustable tension, length, and angle
2" X 5" LCD display with adjustable contrast (sorry...no backlighting for dusk flights)
Switchable FM (PPM) and PCM modes
Digital Trims, programmable by model.
Electronic servo centering, reversing, throw volume, and exponential
Failsafe mode (in case of TX->RX link failure...helps avoid liability lawsuits!)
Mode copy (use to copy one complete model or mode to a spare memory location)
Swiveling antenna
Automatic system power-off and audible/visual battery-low warnings
Voltmeter with adjustable load for transmitter and receiver batteries
Built-in photo-optic tachometer.
DSC & trainer system
2) Its synthesized transmitter and receiver will help translate into fewer frequency conflicts at the field and no additional costs to change frequencies. Rumor between pilots also suggests that PCM systems are less likely to glitch if the ship develops a metal-to-metal vibration which can produce significant broadband frequency interference.
3) I could easily resell the radio if warranted and recoup at least 75% of my investment for at least the first two to three years.
NHP Simulator
Being both practical and cautious, I figured the easiest way to get my feet wet would be to purchase my radio and a helicopter simulator and try things out before I committed to the heli kit. Pilots on the net suggested that the NHP simulator, made in the UK, produced the most realistic heli action, so I parted with $175 US. The simulator turned out to be the most important part of my investment in the hobby, as I was able to sample the radio and practice hovering to learn what to expect from the heli long before I committed myself to destroying the real thing. I lost count, but I believe I crashed upwards of 50 times over the first week or so of use. As I figure, this translates into a savings of at least $10000 US and God knows how many hours of my free-time (each of which has a premium all its own). An acceptable ROI, I think.
The bottom line: if you're new to heli's and have access to a suitable computer, yet do not purchase a simulator, you're NUTS!
In my opinion, the simulator runs best with a Pentium 90 or better and a high-performance accelerated video card. Any PCI video card or VLBus/EISA video card made within the last two or three years should be adequate. The motion is absolutely fluid on my P5200 with Number9 Imagine Series II. I've also tested this on a P5133 with a Diamond Stealth 64 with 4MB VRAM and it was quite smooth as well.
OS 61SX-H Glow Engine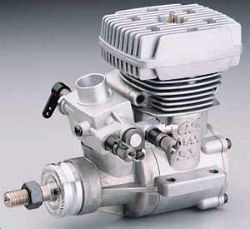 I chose the O.S. 61 SX-H for my ship. My primary consideration in this purchase was the engine's reliability and reputation among fellow heli flyers. During much research and discussion, I found that the OS 61 SX-H was quite popular, but particularly so with X-Cell owners. However, this purchase was not without reservations. A statistically significant number of OS 61 owners brought up concerns for this engine regarding its relatively short bearing life (on the order of 10 gallons of fuel), due apparently to a design flaw on the crankshaft that inhibits proper lubrication and scavenging of harmful combustion byproducts and moisture.
This potential trouble, combined with my lack of familiarity with recent carb designs (my 61 has a type 60B) convinced me to build a break-in/test stand so I could work out any problems before my ship was on the line. Learning to hover the X-Cell was no trival affair and having a good, strong engine working for me made the learning process easier or at least slightly more predictable.
A recent discussion on the heli list indicated that Futaba's YS61 was the preferred choice over the SX for professional pilots but trailing discussion revealed several YS owners experienced problems with fuel leaking from the carb and had to disassemble the carb assembly to correct the problem. While this action may not have been considered significant for established fliers I still don't think that's something particularly helpful to the novice. After three gallons and a change to Enya #3 hot glow-plugs the SX's operation has stabilized, so I'm about as happy as I can be with the engine. Prospective buyers should be aware that this engine can be a challenge to break-in, but once the needles are set it runs quite well.
Cool Power Fuel
At the time I decided to purchase fuel, fellow pilots seemed to favor Cool Power 15% with a 18% synthetic oil, so I settled on this brand. However, I experienced sticker shock when I learned that UPS would charge nearly 85% of the cost of a case to ship via ground, which was promised to arrive sometime between now and the time I pick up my first social security check. Thankfully (and thoughtfully), the dealer from which I purchased the X-Cell kit and simulator, Helicopter World, CA, USA, suggested I try GS Hobbies, located in Old Bridge, NJ. There, I picked up a case of 4-1 gallon jugs for $56.00 and a ton of other heli-related parts and accessories.