Doug's BMW 328is Maintenance Log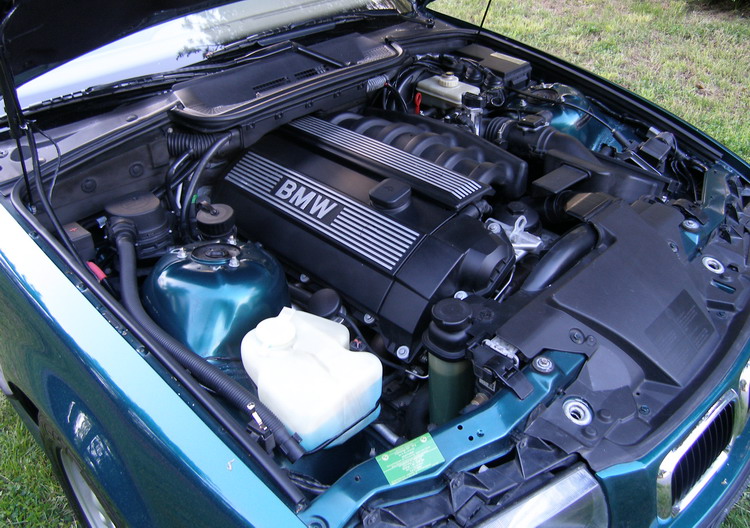 My account of the maintenance performed on my 1998 328is.
Costs are included through 2013.
Reports are listed in reverse chronological order.
2017 Maintenance Reports
July
23: Drivetrain Overhaul Project: Disassembly Begins; Vise base construction
15: Another BMW parts order; Transmission parts; Lifting Hardware; Lifter Precharging
01: Paint options; Engine stand/crane and oil pump upgrade arrive; Revised break-in plan
June
24: Transmission overhaul quotes; OEM parts order; ShureShop table assembled
16: First BMW engine parts order; Torque plate arrives; ShureShop Table arrives
03: Pistons Arrived; Misc Tools and Supplies; Task Lighting Followup
May
30: Tools and Equipment; Bore Gauge Set; M52 Timing Toolkit; Task Lighting
20: Clarified JE Piston clearances; Logistics; Workbench Research; Digital Angle Gauge
12: Transmission Overhaul Research: Tools, Torque Converter; JE Pistons Ordered
April
30: Drivetrain Overhaul Parts List; Blueprinting Spreadsheet; JE Pistons Q&A
15: Engine Overhaul Update: Pistons/Rods; Compression Ratio Calculations; Head Rebuild
08: BatteryMINDer Research; More Engine Overhaul Research
March
25: Summer tire swap; Starter Woes; Engine Overhaul Update; Cluster segment issue
2016 Maintenance Reports
December
07: X5 Hybrid Experience; Coded new OBC
04: New OBC; Cluster LCD Segment Issue and Availability; Winter Tire Swap
November
19: Evaporative emissions control system expansion tank replacement
05: CEL followup; More Engine Overhaul Research; M2 in Person
October
19: Oil Service; Power Steering Flush; Fan Clutch; O2 Sensors; Troubleshooting
September
28: Detailing to the Rescue; Real world ZKW Headlight Test; CEL Fixed
24: Diagnosed and repaired sticking caliper; Rear brakes overhaul complete
17: Sticking left rear brake; Rear Brake Job, Calipers, Hoses and Shocks
03: Applied leather conditioner; Foam repair experiment
August
24: New leather Part 9: Miscellaneous parts and seats installed; Project complete!
19: New leather Part 8: Front seat reburbishment and assembly
09: New leather Part 7: Front seat disassembly; Foam selected; More parts
06: New leather Part 6: Front seat prep; More parts
04: New leather Part 5: Rear seat base cover installed; Rear seats complete
July
31: New leather Part 4: Rear seat covers arrive; Installation begins
10: New leather Part 3: Repair and restoration of rear seat trim
June
24: New leather Part 2: Covers arrive; Broken bolster flange; Hog rings and pliers
10: New leather Part 1: Covers ordered; Official replacement procedures
04: ZKW projector headlight installation complete; Replaced aux fan low speed relay
May
29: ZKW projector headlight installation begins
22: Back from body shop; Summer tire swap; ZKW alignment research;
April
29: Body shop again; Toybox floor and two post lift; NJ State Inspection changes
February
18: No start issue fixed; A 2 Series Perspective
January
17: Cover Update; Grumpy Starter; Toybox Update
2015 Maintenance Reports
November
27: Oil Service; Winter Tire Swap; More Rust
04: HVAC overhaul and carpet replacement complete
October
29: HVAC overhaul and carpet replacement in progress
16: Return from body shop
September
03: HVAC display failure closeup; Audio cable fabricated; Clearcoat failure
July
24: HVAC system overhaul plan
May
23: Yet Another Aux Fan Replacement
22: Yet Another Windshield Replacement
20: OBC backlight repair
April
13: Oil Service; Oil Analysis reveals wear metal increase
March
29: Winter summary; Summer rubber swap; Engine vibration troubleshooting plan
January
31: First test of car cover in winter weather
25: Engine vibration update; Engine overhaul parts research; Clarion FZ102E
11: ZKW ellipsoid harness adapter fabrication; Engine vibration worsens
2014 Maintenance Reports
December
13: Lamin-X films installed on foglights and ellipsoid headlights
12: The E36 in Infrared
November
28: ZKW ellipsoids arrive; Interior Overhaul: Front Seat Repair Research
09: Replaced corroded rear swaybar
08: Car Cover
04: Audio System Overhaul: New midrange drivers arrive
02: Return to Service Prep Complete; Microfilter
October
26: Return to Service Preparation Begins; Oil Service
25: ZKW Ellipsoid Wild Goose Chase
18: Restoration Paint Work Complete; Paint Protection Film Research
10: Passenger Door Panel Prep; Lateral Panel Repair Research and Experiments
September
25: Body Shop Progress: Finish Applied and Baked
12: Body Shop Progress: Bodywork
09: Audio System Overhaul: DSP Troubleshooting and Integration
August
15: Lower Interior Overhaul: Lateral Panel Issues; Delivered to Body Shop
07: Audio System Overhaul: DSP Enclosure Integration Begins
July
23: ASC/ABS Troubleshooting
19: Audio System Overhaul: DSP Enclosure Arrives
06: Brake Fluid Flush; ASC/ABS warnings appear again
04: ASC/ABS Warnings; 2 Series Technology Update
June
29: Road Hazard; Front Brakes; Passenger Door Panel Arrives
22: Audio System Overhaul: Enclosure CAD Design and EMI Research
14: 250000 miles!; Scheduled Maintenance Items
12: Audio System Overhaul: MiniDSP and IsoMax Packaging Experiments
May
16: Billet pulleys: A lesson in manufacturing economics
April
19: Oil service and analysis; Lower interior overhaul planning
06: Summer tires installed; Corroded rear swaybar
March
09: Tool Cabinet
February
28: Fog Lamp Replacement
02: Stromung Followup and Sale
January
12: M3 Exhaust Installed
11: Polar Vortex; M3 Exhaust Arrives to Replace Stromung
2013 Maintenance Reports
December
21: Stromung exhaust installed; First impressions
07: Stromung exhaust arrives
November
27: Oil Service; Engine Bay Seals; Shift Knob; Selected Stromung Exhaust
15: Winter Sport 4D Installed; Inspection reveals cracked muffler
07: Fluidyne, M3 Mirror Updates, Winter Tires, 2 Series Intel
October
06: Audio system integration test successful
September
27: Crimped lugs for audio system bench test
August
23: Pilot Super Sport installed; Jack point rust repair
18: Audio system signal validation
14: Audio system DC power distribution design; Another flat tire
11: First audio system bench tests; Brief review of DEH-80PRS
04: New Carpet Arrives; Normal speed aux fan relay; Door sealing plugs
02: Differential Fluid; Audio System Engineering Update
July
26: Fuel pump, Fuel filter replaced; Oil Service
20: Arc Amps Arrive; Activated Carbon Microfilter
04: Cowl cover, rear window seals, drip mouldings and M3 Mirrors installed
June
25: Rust repair complete; Summer tire swap; No more financial reporting
15: Rust repair in progress at body shop
May
19: Fluidyne radiator returned; Replaced Radiator
11: Fluidyne radiator arrives
04: Windshield leak; Radiator Leak
April
19: MiniDSPs arrive and are bench tested
March
23: M3 Mirror Upgrade parts arrive; More stereo design decisions and parts
03: Wiper Blade Update; Pirelli Update; Routine Oil Service
February
16: Another SRS Fault Light; Washer Fluid Reformulated; Wiper Refills Changed
January
30: A/M Switch Replacement; Financial Realities for Dealer Technicians
19: Stainless wash bucket; Silicone Paste Lubricant; Headlight switch bulb replacement
2012 Maintenance Reports
December
22: Thermostat housing leak and replacement
04: Pirelli Review; Oil Service and Analysis
November
17: Winter wheels installed
10: Two weeks of hell; Set of Pirelli Winter Carving Edge arrive
October
27: Refinished Style 30 wheels arrive; More winter tire research; Toybox update
14: Wurth special purpose greases; Winter wheel prep; More parts and plans
September
29: Yet more audio equipment research; Winter tire options
14: More trim parts; More audio equipment research
August
25: Another OBC bulb replacement; A peek inside the OBC
18: New seat foam base, Pioneer DEH-80PRS, rear window seals arrive; Overengineering
02: Oil Service; Suspension performance report; Seat parts research
July
25: Front Suspension Overhaul - Alignment and Project Summary
21: Front Suspension Overhaul - Day 17: Complete
15: Front Suspension Overhaul - Day 16: Assembly (misc repairs, lock housing)
08: Front Suspension Overhaul - Day 15: Assembly (swaybar, xbrace)
06: Front Suspension Overhaul - Day 14: Assembly (bleed brakes, torque axle nuts)
05: Front Suspension Overhaul - Day 13: Assembly (steering column, rack, tierods)
04: Front Suspension Overhaul - Day 12: Steering column removed, refurbished
02: Front Suspension Overhaul - Day 11; Assembly (Sensor jbox, brakes)
June
30: Front Suspension Overhaul - Day 10; Assembly (Brake shields, wheel bearings)
24: Front Suspension Overhaul - Day 9; Assembly (Struts, kingpins, control arms)
23: Front Suspension Overhaul - Day 8; Black powdercoating, subframe reinstalled
17: Front Suspension Overhaul - Day 7; Silver powdercoating, refurb steering shaft
10: Front Suspension Overhaul - Day 6; Disassembly (brake calipers)
09: Front Suspension Overhaul - Day 5; Disassembly (engine mounts)
02: Front Suspension Overhaul - Day 4; Disassembly (tierods, steering rack)
May
29: Front Suspension Overhaul - Day 3; Disassembly (struts, bearings)
28: Front Suspension Overhaul - Day 2; Disassembly (brakes)
27: Front Suspension Overhaul - Day 1; X-Brace Nutsert Installation
18: Waste oil containers; Ordered tools and nutserts for X-Brace Installation
April
27: More parts for the front suspension overhaul
06: Cam position sensor replaced; Reader tool donation
03: CEL and cam position sensor fault
March
18: Summer wheels with PS2s return to service
17: Early Spring Service Part 2 (project complete)
16: More front suspension and steering column overhaul parts arrive
11: Early Spring Service Part 1; Ordered more front end parts and a special tool
February
17: Oil dipstick o-rings; More front end overhaul parts; Stereo upgrade update
2011 Maintenance Reports
December
23: Feedback from Ground Control on my camber plate research; Year end summary
07: Stereo volume control problem; Audio system upgrade research
November
19: Fixed steering noise by installing new bearing
12: New Roundel; Parts arrive to repair steering noise; Gummi Pflege experiment
October
30: Back to winter tires; Oil Service; Steering wheel noise develops
21: Fabricated custom rear window sunshade; Toybox update
01: Interior Overhaul - Wrap Up; Gahh fabric swatches arrive
September
25: Interior Overhaul - Day 8; Installed new headliner; Installed new FSU and tested iPod adapter
17: Interior Overhaul - Day 7; Installed new sunroof cassette and tested normal function
16: Interior Overhaul - Day 6; Removed old sunroof cassette
15: Interior Overhaul - Day 5; Repaired another side panel, installed new parcel shelf
11: Interior Overhaul - Day 4; More parts arrive; Repaired side panel
05: Interior Overhaul - Day 3; Cut new parcel shelf; Repaired brake light assembly
04: Interior Overhaul - Day 2; New sunroof and window seals; Tail lamp assembly failure
03: Interior Overhaul - Day 1; Removed headliner; State Inspection Passed
August
31: Intermittent HVAC blower operation; The Flip Side of Anger
27: Interior Overhaul - More parts arrive; Secondary air pump disassembly; Construction update
20: Interior Overhaul - First Parts Arrive; USA Spec PA12-BMW iPod adapter
05: Headliner continues to disintegrate
July
16: Front Suspension Overhaul - Control Arms and Camber Plate Research, First Parts Arrive
June
26: Driver's Door Overhaul - Complete
25: Door handle assembled; Construction Here and There; Longacre Racing tire gauge
19: Hydraulic tensioner installed
11: Hydraulic tensioner conversion parts received
May
30: Driver's Door Overhaul - Day Two
29: Driver's Door Overhaul - Day One
28: Mechanical tensioner noise; 1M in person; Oil service
25: Fourth windshield replacement; Interior repair quotes; Additional driver's door parts
14: Cracked windshield; New driver's side door panel arrives
April
17: Replaced secondary air pump and check valve; Miscellaneous Factoids
10: Installed new summer wheels; Replaced failed driver's door window motor
March
25: Picked up new summer wheels and tires; Secondary Air Injection pump acting up
12: Purchase of summer wheels and tires; Lift shopping
February
26: Reader donation: magnetic drain plugs
19: Seatbelt Stop Repair; Oil Service
January
22: Another bad driver's window motor; New microfilter
2010 Maintenance Reports
December
18: HVAC controller fixed
12: HVAC controller gremlins return
05: Fog light bulb replacement; Instrument cluster replacement research
November
18: Milestone: 200000 miles
October
31: Return to snow tires; MPG Trend
23: Snow tire remounted; Check Engine light; The Typical BMW Buyer
14: Oil Analysis Results; Email Trend
09: Oil Service; New Style 30 wheel; Gauge cluster malfunction; Plans
August
29: Front Brake Job
July
26: Accessory Overhaul Complete
25: Accessory Overhaul Day One
23: Remaining parts for accessory overhaul arrive
21: Battery Failure
17: Sagging Headliner
09: Oil Service and Analysis; Front Suspension Overhaul Plans
07: Rear Suspension Overhaul - Alignment
June
28: Rear Suspension Overhaul - Complete
26: Rear Suspension Overhaul - Assembly Day Three
25: Rear Suspension Overhaul - Assembly Day Two
24: Rear Suspension Overhaul - Assembly Day One
20: Rear Suspension Overhaul - Miscellaneous preassembly tasks
18: Rear Suspension Overhaul - Parts return from powder coating
13: Rear Suspension Overhaul - Body harness repair and parts preparation for painting
11: Rear Suspension Overhaul - Parts returned
09: Rear Suspension Overhaul - Parts sent out for disassembly
06: Rear Suspension Overhaul - Disassembly Day Two
05: Rear Suspension Overhaul - Disassembly Day One; Axle Remanufacturing Options
May
27: Failed trailing arm bushing leads to suspension overhaul
07: More parts and prep for accessory overhaul
April
17: First parts upcoming engine accessory work arrive
04: Back to summer tires; Update on oil leak; Technician's comments on lead wear
March
15: Oil analysis identifies lead wear trend
07: Oil Service
January
24: Replaced normal and high speed aux fan relays
16: High speed aux fan relay failure
09: Windshield washer system repair and overhaul
2009 Maintenance Reports
December
31: Windshield washer system leak; end of year numbers and notes
November
01: Back to winter tires; 2nd DIY brake fluid flush
October
14: How not to fix a flat tire
11: Oil service and analysis; engine air filter; microfilter
September
19: State inspection; New winter tires
July
04: New crankcase vent, idle control valve, intake manifold air temperature sensor
June
28: Oil Service; Upcoming Work
25: Flat left rear tire; HVAC blower motor installation
May
23: New wiper assemblies; A/M Switch LED Conversion Experiment; More blower motor research
April
18: New summer tires (Pilot Sport A/S Plus); Second DIY differential fluid change; Rear drivetrain noise
March
21: Oil Service; Suspension Work Research
17: CEL for fuel tank leak (benign)
February
07: Thermostat and housing; Coolant Flush
January
24: Tire repair
08: Catalytic Converter Replacement; New exhaust mounts
2008 Maintenance Reports
December
23: Yet another CEL for Catalytic Converter Efficiency. What else?
14: Oil Service; Parts for Blower Motor fix
November
02: Back to Winter Rubber; HVAC blower motor noise
October
19: First DIY driver's door window motor and regulator
11: Consequences of worn rear tires; Microfilter
September
07: Swaybar Update; Surprise Brake Job
01: Oil analysis; Trip to Hazmat; Rear swaybar service (bushings and endlinks)
August
30: first DIY coolant flush
23: Fuel System Treatment; Oil Service; DIY Inspection; Record keeping note
June
07: Aux fan connectors replaced
May
31: Aux fan revisited
24: Fuel system cleaner; Fuel filter inspection; Oil analysis; coolant flush research
17: Oil Service, Fuel Filter
04: Aux cooling fan replacement
April
27: Trim restoration experiment; Aux cooling fan failure
20: Valve train noise; OBC clock bulb replacement
05: Return to summer rubber; First DIY Brake Fluid Flush
February
02: Oil service and analysis; Dunlop Winter Sport M3 Review; Ten Years
2007 Maintenance Reports
December
08: New winter tires for 16" wheels
November
22: Microfilter
18: Fog light replacement
October
27: Oil Service and Analysis; Engine Air Filter; Cold start update; Tools
September
20: State inspection results; Cold start issue persists
13: Windshield, take three; Delayed cold start
07: Hood hydraulic lift cylinders; Battery
August
16: BMW special wheel bearing tool; M steering wheel conversion; New door/ignition key
July
20: Oil analysis results; Faint front wheel noises; Steering wheel noise
14: Oil Service; Carpet cleaning
May
27: Center vent replacement
April
29: Passenger door pull trim replacement
26: Fuel Leak
12: Oil analysis results
07: Spring cleaning; Oil service
March
11: New valve cover gaskets, spark plugs, and coil boots
February
25: Rear speaker upgrade
17: Oxygen sensor update; Power steering update
03: Power steering phantom part; Replaced Pre-cat O2 Sensors
January
31: Emissions woes; Oxygen sensor research
22: Replaced tensioner
21: Failed main belt tensioner pulley; More tools
13: Car returns from body shop; GT1 Analyzer; First DIY microfilter replacement
05: Body shop work to fix sideswipe damage; Check engine light
2006 Maintenance Reports
December
30: Front sway bar bushings; Power steering hoses; Year in Review
28: Oil Service; Front sway bar links; Back to the body shop; CSL wheels reinstalled
20: CSL valve stem followup
18: CSL valve stem issue; Parts order
10: CSL wheels and tires mounted
05: Tire research and analysis
November
23: DIY inspection; Glovebox flashlight; Microfilter; Tire status
12: First DIY brake replacement
11: Check engine light for Low Catalytic Converter efficiency
October
08: Differential fluid replaced
03: Wiper blades, Frozen differential drain plugs; Wheel chocks & update to tools article
September
27: Wheel bearing fixed
21: Left rear wheel bearing failure; Brake parts arrived
10: Differential Fluid flush prep
09: First DIY oil service; More tools and equipment
August
26: CSL rims arrive; Flat fixed; Tire decisions
14: Flat tire
08: Aux fan relay replacement
July
28: More auxiliary fan fun
25: Aux cooling fan troubleshooting; Toys for the birthday boy
09: Power steering flush; Stone guards and other parts; Prep for A/C fix
June
20: Cooling system wrap-up; Local dealer is sold
16: Coolant expansion bottle explodes
12: New front woofers (kick panel drivers); A/C Compressor Sanity Check
May
25: New midrange and tweeter drivers
24: Oil Service, Brake fluid flush, Fuel filter, Cooling system overhaul, belts
20: New detailing techniques
19: Restoration research & options; Bentley manual purchase
April
29: DIY Fuel Pump and Sender
13: My baby returns from the body shop
March
14: Another deer hit, another trip to the body shop
February
18: Transmission replacement under warranty; E46 Purchase
January
30: Transmission diagnostics; Interior overhaul parts research
06: Oil Service; E90 Mini Review
2005 Maintenance Reports
December
04: September state inspection results, summary of the last six months
July
19: Oil Service, Microfilter, Engine air filter change
June
21: Air conditioning troubleshooting; condenser replacement; Technician Q&A
May
10: Front control arm bushings
05: New Tires, Defective clear coat on rim; Transmission status
April
12: More transmission troubleshooting; Oil Service; Brakes/Tires status
February
10: New transmission installed
January
27: Win shield washer fluid update; Oil Service; Transmission Troubles
2004 Maintenance Reports
December
24: Body shop work update; Windshield washer fluid and wipers
November
19: Body shop work to fix damage from deer hit; Comments about shop
October
16: Deer hit!
September
08: Steering rack installed; alignment results.
August
26: Diagnosis: new steering rack required; New floor mats and wheel centers
04: Oil Service, Transmission and diff flush research; Big Brother at BMW
June
05: Oil service; Rattling catalytic converter heat shield fix.
April
12: Brake light switch replacement.
March
11: Work in lieu of Inspection I, rear shocks, exhaust mounts
02: Ordered shocks and other stuff; Notes on O2 Sensors and catalytic converters
February
14: Replaced leather armrest, six years of ownership.
January
22: Replaced gauge cluster and headlamp switch backlighting.
2003 Maintenance Reports
December
17: New front brakes, flushed brake fluid, mid-cycle oil service; replaced thermostat.
02: Four new Michelin Pilot Sport A/S tires installed.
November
25: Replaced the second windshield with a third
20: Tire time again - settled on four Michelin Pilot Sport A/S
07: Posted an article covering my second windshield replacement
October
Will need brakes soon; Another rock in the windshield!
September
29: A motor vehicle inspection gotcha that might affect some E36's
01: Oil Service, Front pads needed earlier than expected
August
30: Side molding replacement
11: Insurance claim comes through
01: Left side fog lamp light assembly; left and right side molding
July
Off-cycle oil service, belt replacement
April
Replacement of climate control head, A/M Switch
March
Loose ignition harness results in another flatbed, Inspection II
January
Routine service: Brake lamp replacement and synthetic oil service.
2002 Maintenance Reports
| | |
| --- | --- |
| November | Second unexpected maintenance; failure to start and misfires - new idle control valve and six new platinum plugs. |
| October | First unexpected maintenance - air injection pump and check valve |
| September | Tire replacement, oil change, wiper blades (finally!) |
| July | Struts and alignment, including a pic of the actual alignment results |
| June | Lots of maintenance in support of my decision to keep the machine |
| May | Decision to trade put off; A few routine maintenance items |
2001 Maintenance Reports
| | |
| --- | --- |
| December | Thanksgiving day brought at least one thing I wasn't thankful for...a leak in my coolant system. |
| October | Windshield replacement, off cycle oil service. |
| May | So it's now a garage queen...you wanna make something out of it? |
2000 Maintenance Reports
| | |
| --- | --- |
| October | Second Inspection I, GTI purchase to offload BMW usage, realization about maintenance on a BMW. |
| July | No more warranty, belt replacement, fixing a pesky creak, off-cycle oil change. |
| June | First Inspection II, tire and brake status. |
1999 Maintenance Reports
| | |
| --- | --- |
| December | Off-cycle oil changes, tire replacement, A/M light change, air vent change. |
| March | First Inspection I, driver's seat leather replacement (warranty), tire and brake status. |
1998 Maintenance Reports
| | |
| --- | --- |
| October | First oil service, steering wheel shimmy. |