Tuesday, December 2, 2003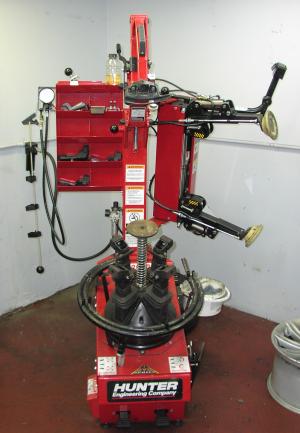 Wow. What a difference a set of tires can make. I just got home from the dealer with the new Michelin Pilot Sport A/S tires on the car and I cannot believe how much differently the car feels and drives with the new tires.
Some notable improvements:
No more vibration in the seat of my pants or in the steering wheel. The car drives like the day I drove it out of the dealer. Perhaps better. No marketing-speak BS here folks.
Tramlining is completely (okay, 98%) gone. I wonder how much strain the tramlining forces from the other tires were putting on my power steering pump...
Steering feels so much more neutral and PRECISE, particularly right around the center, that I can't believe I tolerated how the old tires would pull the wheel everywhere with every minute change in road surface grain and slope.
I took the car up to 80 on a back road and, again, all I can say is WOW. I will never put another Dunlop tire on this car...to do so would be an affront to the quality of the car and the driving experience it can deliver...with the right tires. My mechanic was right all along.
And, for you skeptics, I think I can get away with saying that the car drives better than when I drove it off the lot by considering the car came from the factory with Dunlop tires. If you'll look back at first maintenance entries in 1998, you'll note I had problems with steering wheel vibration. What I didn't know then was that this was NOT due to some steering pump problem...it was due to flat-spotted and out-of-round tires that eventually "heat cycled" into shape. Sort of.
Of course, my mechanic was able to get more objective measurements of the new tires by using about $25K worth of tire mounting and balancing equipment (shown above -- mounting equipment on the left, road force/balancer on the right). Considering the cost of the equipment and the positive results, I'd say the $40/tire I spent for mounting/balancing/disposal is a bargain.
My mechanic told me that two of the tires produced about 6 lbs of road force, while the other two were just under 10. This is higher than his original estimate, but well below the maximum BMW (18) or Michelin (25) specifies. Naturally, the two 10's were mounted on the rear, but I'm here to tell you that you CANNOT feel 10 lbs of road force (on the rear, anyway).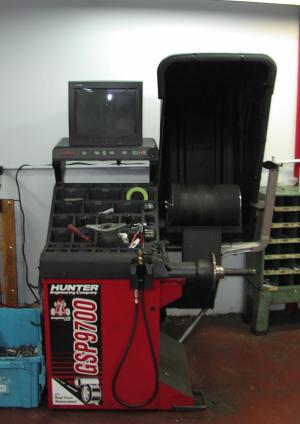 Some recommendations that I've developed as a consequence of my experiences with tires on this car:
In a properly aligned car, tramlining is typically caused by wide tires with large, uniform tread patterns consisting of large tread blocks that more readily transmit road surface irregularities back into the sensitive BMW steering system. You need only look at the tires delivered on the current-generation BMWs for evidence that supports this assertion. All of the tread patterns consist of small tread blocks laid out in various patterns necessary to scavenge mud and snow, as well as reduce noise. The increased potential for tramlining is the primary reason why I chose not to go with the Kumho ECSTA MX.
Whatever tire you buy, make sure you verify the return policy of the tire distributor or tire manufacturer. Tire Rack was cool in that they said if I wasn't satisfied with the tires for ANY reason (like they weren't within my personal road force specifications) they'd take them back and send out replacements in a heartbeat. My next set of tires will come from Tire Rack for this very reason.
When it comes to installing the tires, deal with a reputable company you can trust, with the right equipment, to do the job right. Some shops will put totally out-of-round tires on a car with absolutely no regard for the owner's driving experience or any sound engineering principles...simply to clean inventory. The local shop I bought the last set of SP8000's from obviously did that to me. My dealer's mechanic, on the other hand, was the one who took the time to educate me about tires. You can probably guess who will mount and balance my next set. 'Nuff said.
While the wheels were off, I also had the front pads and rotors changed, the brake fluid flushed (about 6 months ahead of schedule, but while in Rome...), and a mid-cycle synthetic oil change performed. Next major maintenance will be an Inspection I, in about 6K miles, or sometime in the February/March timeframe.
Total damage: P&L (excluding tires): $800. Mileage: 87609.