May 25, 2006
Today I managed to finish my quick-fix to the audio system. I would have been done with the job on Sunday when I started it, but I wound up doing a bit more work than originally planned.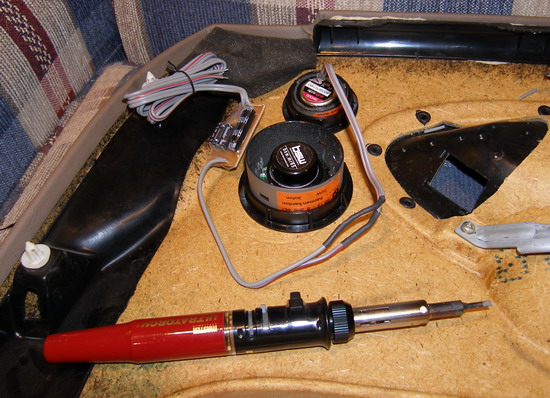 First, I had to fix the door panel when the strip of plastic fastener receptacles separated from the top of the panel. I confirmed online and with my technician that this is a common problem as the cars age. It just looks like BMW didn't use the right type of glue or enough of it. I solved the problem by rebonding the receptacle strip to the door panel using common construction adhesive. If you look closely at the image, you can see the glue oozing out from behind the receptacles. The good news is it didn't come apart when I slapped the door panel back on, but only time will tell if it will hold up.
Second, while I had the door panels off I figured take the opportunity to replace the tweeters. A quick trip to Crutchfield's website revealed I could purchase the Polk db1000 1" soft-dome tweeter set for $100 + shipping. While Crutchfield's fitment guide suggested these were "not recommended" for the E36, they don't know what they're talking about. With some very minor modifications to the OEM tweeter mount courtesy of my Dremel plus a bit of hot-melt glue they fit like a glove and I'm really happy with the results. And as luck would have it, I have an old set of Polk 5510 woofers that will fit nicely in the kick panels and complement the tweeters. In fact, installation of the woofers is the next step in the stereo upgrade process.
So how's it sound? The tweeters are actually pretty laid back but they definitely reach higher and are SO much smoother sounding than the OEM units it's not even funny. The BSW midranges are definitely brighter than the OEM units, almost to the point of being obtrusive, but they should do the job until I get around to doing the full stereo upgrade and disconnect them in favor of running a two-way component set.
Details of this fix and my overall upgrade plans will be covered in an upcoming article.
Parts: $220, Labor: $0, Labor Savings: $300 ($200 for door repair, $100 for speaker install). Mileage 128050.