August 8, 2006
Aux Fan Relay Replacement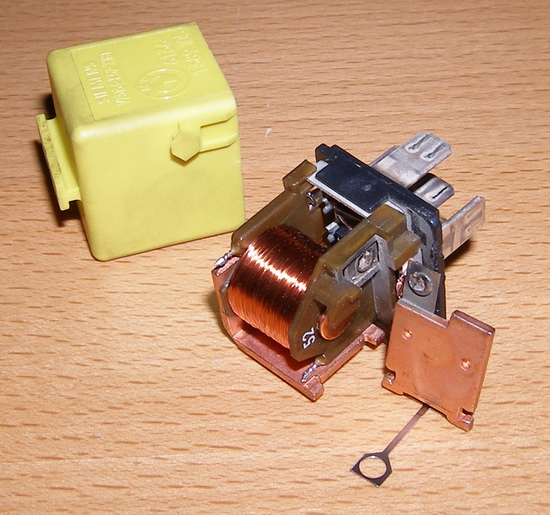 After a snafu delayed delivery by about a week, the aux fan normal speed relay finally came in today and my tech swapped it while I waited in front of his bay.
The old relay is shown in the picture. Check out those burnt contacts -- they're nearly completely gone. Pretty nasty. Moral of the story? If your compressor is making noise and your aux fan isn't running, take the relay out, inspect the contacts, and if you find anything close to that depicted, replace it!
Incidentally, to remove the relay, use a pair of pliers and just grab that little T-shaped handle and pull straight up. The cover pries off with a thin flat-blade screwdriver pushed between the outer casing and the relay base. And the contact plate can be removed as shown to expose the contacts by squeezing the relay between one's fingers until the little arm shaped like a lolipop detaches from the latching pin. Easier done than said.
The A/C system has been working a lot better since my technician jury-rigged the old relay, and my first commute today in 85+ degree heat revealed simlar performance with the new relay. It's now freezing me out of the car.
Total Mileage: 131250, Labor: $0, Parts $16.