August 26, 2006
CSL Wheels Arrived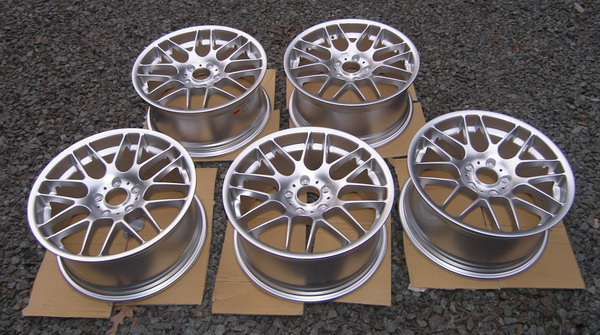 My new wheels arrived this week and they're (drum roll please) 18" Velocity Motoring CSL replicas. They look great as is, but I expect them to look even better wrapped in some nice high performance rubber and mounted on the car.
As I said in my last update, I'm not big on the bling thing, and I was somewhat concerned that anything but OE wheels would overpower the beautifully understated E36 body design, but I think these will freshen the look of the car in a tasteful way. And that's no surprise, really -- the CSL wheel IS a BMW design after all. The quality of the finish is definitely not OE but then again I'm not paying OE prices either. A reasonable compromise, I think.
I originally planned to have the vendor acquire and mount the tires, but when I learned that the tires would delay the shipment a week or more I cancelled the tire order and asked them to ship the wheels bare. While waiting for the wheels to arrive I went back to the drawing board to look for a good replacement for the Pilot Sport A/S, but the results were not encouraging.
The only well-reviewed "ultra-high-performance" all-season tires out there are the Michelin Pilot Sport A/S and the Pirelli PZero Nero. The Pirelli tires don't seem to have the complaints about noise later in life, but they apparently have a tendency to tramline and my technician backs up a few of the observations that Pirelli tires in general have a tendency to wear unevenly or just very quickly. They grip like mad (almost like a summer tire) but they have a tread life to match. And to top it all off, Tire Rack said Pirelli is discontinuing the PZero Nero and there's no word on its replacement. Ultimately, I think the best choice would be to put a set of Michelin Pilot Sport PS2 summer tires on the 18's and another set of the A/S on the 16's for winter-only use, but that would also be the most expensive route. I may do that eventually, but not this time around.
Ugh. I can't believe that I'm going to say this, but I may wind up going for Pilot Sport A/S again, this time in 235/40/18.
Flat Fixed
I managed to find a local tire place that would put a patch on the inside of the tire for $22, so I dropped off the tire and picked it up a couple hours later. When I went to pick up the tire they offered to put it on the car for me, but I passed because I knew full well they'd use an air wrench and over-torque it. And if you think that's no big deal, consider that when I got home and swapped the tire, I found I didn't really need my breaker bar to remove the wheel bolts. If they're torqued properly, I think the wrench provided in the car is sufficient.
All of this tire swapping got me to thinking. There are some things I plan to put in the car to make sure I can change a tire on the road safely from this point on:
A couple of aluminum chocks. They're primarily designed for aircraft, but would work just fine in this application and (most importantly) wouldn't add much weight.
A breaker bar. Just in case I wasn't the last one to torque my wheel bolts.
A pair of soft, form-fitting (blue) nitrile rubber or cloth gloves. Changing a tire is a messy job under ideal circumstances, and the grime doesn't come off easily. Why transfer that stuff to your interior?
And speaking of cleaning up, some baby wipes in a sealed plastic food storage container, because as everyone knows the container the wipes come in is designed to leak and dry out the contents so you have to buy new every few months.
A tyvek painter's suit. You might look like an escaped mental patient donning that on the side of the road, but it might just save a couple hundred in clothes. You might just call roadside assistance, but I'd just as soon not wait for them to arrive or pay their ransom some late night. I'll put on the suit and be on my way in under 15 minutes.
The most interesting thing I noticed while running the car through several tanks of gas without the spare in the trunk? I blessed with 0.7 MPG higher gas mileage(!). You won't catch me running without a spare to save those pennies, though -- OPEC be damned.
Total Mileage: 131800, Wheels: $875, Parts and Labor: $22. Labor Savings: $20.