Monday, January 22, 2007
Spoke Too Soon -- Replaced the Tensioner
Remember yesterday when I told you that the pulley was "completely silent"? Well, I was wrong. The next morning I came out to start the car, and ran inside to get something I forgot. By the time I came back out five minutes later the noise had returned and it was worse than it was previously -- it was now continuous even without any appreciable electrical load. I quickly decided that the real cause of the noise was the tensioner itself. Some brief surfing on bimmerforums and e46fanatics confirmed the correct diagnosis. The only problem? If you want the tensioner, BMW only sells it with the pulley, so I now have a spare pulley.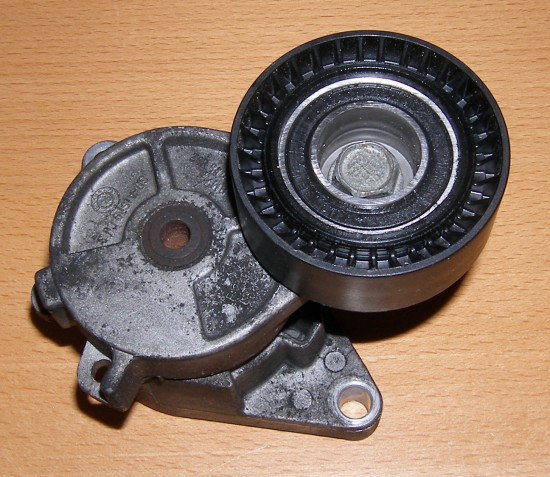 I picked up the tensioner at my dealer this morning and installed it tonight. After the first run through on Saturday, I found this procedure to be old hat and had the job done in 30 minutes including some searching for proper torque specs. And speaking of specs, I'll relate the fact that the two tensioner mounting bolts are cad plated (the TIS calls these "yellow" bolts) M8x35 8.8 hardness and the generic torque spec of 24 Nm or 17 ft-lbs applies. To gain access to the top tensioner mounting bolt I had to remove the offset pulley which shares a mounting bolt with the alternator. That's zinc plated ("silver"), M10x150, 8.8 hardness and should be 40 Nm or 30 ft-lbs. I've gained enough experience to recognize approximate torque values when I loosen things and these specs jived with the force required to loosen them. As with everything from this site, however, use them at your own risk. If you snap a bolt, don't blame me.
The one thing I hate about this job, incidentally, is having to deal with the main drive belt. I feel like a monkey f*cking a football trying to get that thing routed correctly and the tensioner hauled back enough to get the belt over the tensioner pulley, but that's why I pay myself the big bucks. I saved about $150 in labor doing this myself.
Parts Order
I placed an order with Jason @ Tischer BMW today for the power steering system overhaul, the right side exterior door handle trim (to match the left side put on by the body shop) and some miscellaneous hardware. I wanted to order the tensioner from Jason to save some coin but felt I should replace that ASAP. Fortunately, my dealer had it in stock so I picked it up there. With "urgent" repairs there's really no choice. I wasn't about to save $20 and put some very expensive components at risk.
Mileage: 138550, Parts: $80, Labor Saved: $150