Sunday, October 19, 2008
Power Window Motor and Regulator
A couple months ago I was getting out of my car with a a several bags of groceries in hand and suddenly realized that I'd forgotten to close the sunroof. Rather than set everything down and climb back into the car I decided to use a little-known feature of the E36 BMW -- convenience close. For whatever reason I've probably used this about four times since I've owned the car, but I figured I could use some "convenience" right about now and simply put the key in the door, turned it to lock the door, and then held it at the stop until the sunroof closed. Quick and easy.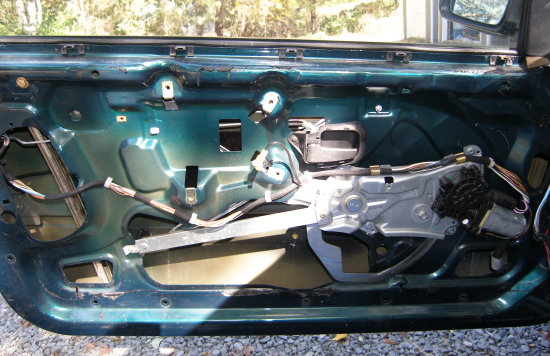 The next morning when I got in the car I closed the door and quickly realized that I had failed to hear the familiar "joggle" the window does to accomodate mating of the frameless door with the car. Instinctively I tried to lower the window with the button and it failed to move. All I heard was a faint clicking sound coming from within the door panel. I figured at this point that the power window motor had failed, but since the window was fully up and I had to get to work I put things in perspective and went about my day.
The next morning I opened the door and to my amazement saw the window joggle occur. A quick check of the button demonstrated that the window motor still worked. As I had seen this very same behavior with the sunroof many years ago I figured that the convenience close feature had somehow confused the limits for the window and the window motor was, in fact, fine.
The window worked normally for several weeks...that is until last weekend when I closed the door again and realized that the window failed to "joggle". And sure enough the window buttons produced little more than clicks from within the door. "Not this crap, again", I thought to myself. "Okay, in spite of the fact that I just replaced this stupid window motor three years ago after one of the deer hits, I'll fix your little red wagon...and place an order with Tischer today".
Some research on Bimmerforums revealed a fairly detailed DIY thread and several helpful comments (as well as the typical flamethrower comments by some people who obviously know it all...but I digress). I used that and RealOEM to justify the purchase of the window motor and the regulator ("scissor arms") just in case they had bent or otherwise failed. The parts came in on time as usual (thanks again guys!) and I managed to fix the window today.
All I can say is that this is one of those jobs that I really would have preferred to pay someone else to do, but I decided to do it myself because I realized there was a sizeable DIY savings to be had here. My tech told me that book labor for a window motor replacement is 2.5 hours, or about $295 with tax at current dealer rates. When I combined that with the nearly $55 I'd save by sourcing the parts myself the decision was a no-brainer. The job took me exactly 2.5 hours, which I consider quite reasonable given some of the estimates first-timers have published online (4 hours seemed typical). And if I didn't stop to take pictures I probably could have done it in a little over 2 hours. Given that I typically have to "pay myself" $100 or more an hour to make this work worth my effort, I appear to have handily exceeded that benchmark in this case.
The job came out flawlessly and the window seems to ride noticeably smoother and quieter than it had in recent memory. Even the "joggle" is nearly silent now. Just like new. Well, except for the airbag light in the gauge cluster that I need to have cleared tomorrow. I won't go into much detail here but I will say that if you have side airbags and need to do this job, just expect to get an airbag light as a consequence of doing this safely. After all, it's better than having an explosive device six inches from your face while you're busy cursing at the window motor. No safety glasses will save your eyesight if it goes off, I'm afraid.
A DIY is on the way. Look for it soon.
Mileage: 167320, Parts: $270, Labor Saved: $295, Parts Saved: $55