Friday, February 17, 2012
New Dipstick O-Rings
Around the holidays I received a small donation from a reader: a package of two engine oil dipstick o-rings. The existing o-rings didn't appear to be in bad shape (which explains why I never thought to replace them), but I found the new parts to be more flexible. And once installed, I also found that the dipstick seated a bit more firmly than before. All in all, a simple and inexpensive bit of preventative maintenance. Thanks Jim!
More Front End Overhaul Parts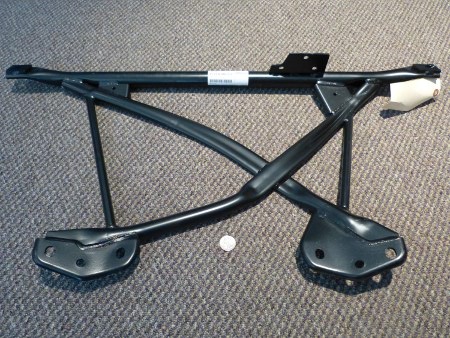 Given the scope and cost of the parts needed for the front end overhaul I hope to (finally) begin this spring I figured it would be a good idea to start buying the remaining parts in small batches more compatible with my monthly budget. I decided this month to acquire virtually all of the small parts for the project and added a couple slightly more expensive items including four brake lines and the X-brace.
Everything came within days with the exception of the x-brace. To make a long story short, BMW did show stock at the time I placed my order but when I checked on the status two weeks later there were none in stock anywhere in the world and no one was willing to commit to a delivery date. So either I happened to catch BMW with their logistical pants down or the x-brace is officially ENDED.
While browsing for other parts on Turner Motorsport I happened across an ad for an X-brace, at which point a dusty five watt lightbulb appeared over my head and hestitantly flickered to life. Not ten minutes later I wound up calling TMS and buying what ended up being the last one in stock. Total price: $218 shipped ground. It arrived the next day.
If you're wondering why I bought four brake lines, that's because all the lines are original and I have to break open and bleed the system to inspect the front calipers, so it makes sense to do all four corners and bleed once...especially before one of the lines gives out after fourteen years on the job and leaves me stranded somewhere.
I plan to order the steering column lock assembly parts next month because those will probably have the longest lead time. Struts and springs will follow, at which point I'll pull the car out of service for the work.
Stereo Upgrade Update
A couple months back I came up with a plan to replace the failing (and no-longer-available) BMW OE headunit. The only problem with my plan was that the headunit I felt best matched the vehicle and my requirements was $1200. Now, as this site has proven time and time again it's not like I can't write a check for $1200 for this car, but you may have noticed I tend to place a higher priority on mechanicals than cosmetics or entertainment and there is currently no shortage of mechanical projects waiting in queue for my time and money.
For this reason I vowed to continue looking for another headunit solution and a couple weeks ago I found it: the Pioneer DEH-80PRS is due on shelves in April and slated to retail for a far more tolerable $420 (estimated street price around $350). The 80PRS naturally sacrifices some aspects of the P99RS I liked, but nevertheless provides respectable features including SD card support, line-out independent Burr-Brown DACs, L/R independent 16-Band EQ, and time alignment. It also improves on the design of the P99RS in two major ways -- a larger, more accessible control knob and -- wait for it -- full control over the button and LCD backlighting colors. This deck should match the BMW lighting perfectly. Provided the early reviews are acceptable the 80PRS will take up residence in my dashboard.
Mileage: 218300, Parts: $488, Parts Saved: $80