Sunday, March 18, 2012
Summer Tire Swap
When I installed the winter tire set last fall I knew full well they were not in particularly good shape, and I'm not just talking about the depth of the tread. The front tires had developed a really annoying rhythmic growling noise at low speed reminiscent of a wheel bearing failure in addition to the roaring noise at high speed typical of all snow tires. And thanks to the communicative BMW steering system I also felt and heard a periodic sound most evident at low speed while turning that anyone else would have likely attributed to a screw or nail in the tire. In short, the tires were shot, but safe, and I needed to save money so I reluctantly returned them to service.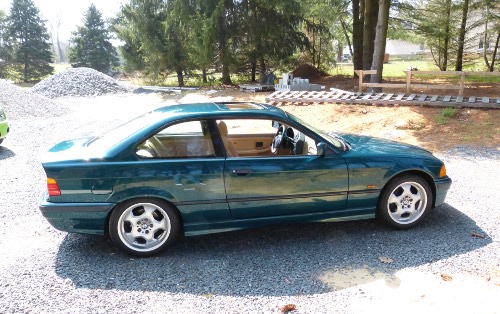 Fortunately my bet on these old, worn out snow tires paid off. We did not have a winter season, or at least a traditional one. Other than the early snow that caused me to put the tires on in the first place, we received at most an inch of snow one day, and flurries on a couple other occasions. That was about it. So, although I normally wait until the first week in April to install my summer tire set because the chance for a snow storm is pretty low by then, given the weather so far this season and the forecast for 60's in the coming weeks I decided to swap the tires a couple weeks early.
The process went pretty much as expected, save for one thing. As I performed my usual inspection of the front end I found both left and right side foam shock absorbers (what BMW calls the "auxilliary shock absorbers"), broken into several pieces, barely clinging to the strut rods. That's not good because now there is nothing to prevent these tired struts from smashing into the upper spring perch and carrying damaging loads into the strut tower. The condition of the absorbers tells me that this is a very real concern as they have obviously been compressed too many times.
One upside is that the front brakes, while quite worn, appear to have enough life left in them to make it to June when I expect to pull the car out of service for the long-overdue overhaul. That means I will be able to put all new brake parts on the car rather than screw around with a bunch of old parts on what will hopefully be a near pristine, powder-coated front end.
The test drive with the PS2s was predictable: perfectly quiet at all speeds, neutral and exacting steering, and of course, on-rails handling. All I could think was "wow...my BMW isn't a truck with bad bearings after all". The plan now is to deliver all the wheels to a repair facility in eastern PA to have them dial indicated, straightened if required, and refinished before I install a new set of winter tires to ready them for next season. And yes, I'm planning to install another set of Winter Sport M3's. They're not bad tires...so long as you don't run them for more than two seasons or roughly 12K miles.
The tire swap took a couple hours, but that was because I had to haul tires and tools between my two garages, so I'll call this one hour labor saved, or $128.
Mileage: 219600, Labor Saved: $128