Saturday, October 25, 2014
ZKW Euro Ellipsoid Wild Goose Chase
With the car back from the body shop this week my thoughts turned to the lighting options needed to wrap up the exterior overhaul and illuminate the roads for the nightly drives this winter. While researching the topic a couple months ago I didn't think I'd have any issues getting the ZKW OEM Euro Ellipsoid headlight assemblies so I postponed their purchase until I was ready to install them. But as usual in my life of late things didn't go as planned.
Due to their regular guidance provided to the bimmerforums community I decided to buy from BavToys. While I'm not exactly a fan of any merchant that uses PayPal, when I selected the particular parts I wanted I saw no warnings so I clicked "buy". PayPal transferred the funds all was good with the world. Or so I thought. The next business day I got word from BavToys that the parts were not in stock but they expected them within 3-6 weeks. When I told them I needed them earlier they said they had units converted with angel eyes in stock. I declined that offer as despite their popularity I've never been a fan of angel eyes even on the newer vehicles and don't believe they are period appropriate for the E36. To each his own, I guess. I instead requested an immediate refund so I could allocate the funds elsewhere but the guy balked and said they do refunds on "Thursdays".
So let me get this straight:
They list parts for sale, indicating to any rational observer that they have the desire and ability to ship the products.
They provide no real time stock information so the buyer has no idea whether the parts are actually in stock or not, and they didn't even bother to update the general description to reflect any shortage or shipping delays.
Their payment method (PayPal) requires an immediate transfer of funds during order processing rather than when the parts ship like most reputable vendors.
They're willing to take money from customers on a daily basis but I'm supposed to wait several days for my refund to be processed?
Had BavToys agreed to refund immediately or spared me the arrogance of suggesting I should file a dispute with PayPal or my credit card company if I thought that would get me the refund sooner, I would have chalked this up to a mere bump in the road and ordered from them again when the parts arrived. Instead, I decided to look to other vendors who actually know how to do business -- online and in general.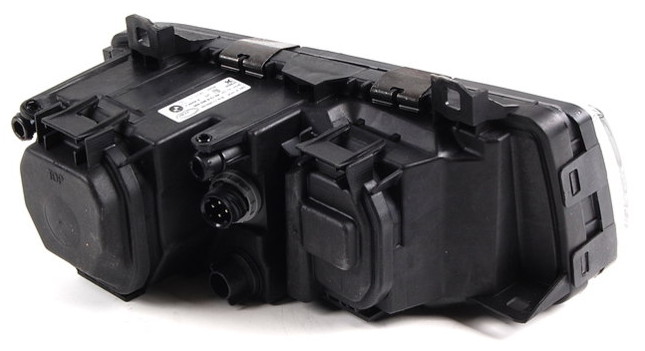 Turner Motorsport listed the exact ZKW part numbers and the price was right, and by that I mean it was equivalent to 20% off BMW's retail. The product description boasted about the parts being authentic ZKW but with the BavToys debacle fresh in memory I emailed them to verify the claim and check stock. I didn't expect an immediate response so I decided to call my dealer while I waited.
As luck would have it BMW had seven pairs of ellipsoids in stock in Germany but one of the part numbers was "locked out" from ordering from the US. I was elated when my parts guy managed to contact someone at BMW who agreed to cancel the lockout and allow the order to proceed, but then a couple hours later my hopes were dashed when this same person insisted we fill out a form that required a Euro VIN and proof of successful vehicle federalization. Meaning, BMW wanted to make sure I was putting a Euro part on a Euro car that was legally imported into the US. I had heard stories like this with various euro parts but this confirmed why the aftermarket is the only market for ellipsoids in the US. Rest assured, the problem for once is not BMW. The benefits of ellipsoid projectors vs. parabolic reflectors are well known...except, apparently, to the US DOT and NTHSA. The very fact that the lights are certified for use in Europe and approved for installation by the manufacturer should be enough. But this is the US government we're talking about here. Logic need not apply.
Not to be deterred, my parts guy suggested I try ECS Tuning. I found their part listings (more specifically their part numbers) unnecessarily obfuscated, which is usually a red flag with merchants who like to rebrand Chinese crap so I brought up a chat session. The rep provided a link on their website to a two light kit that was priced about $100 less (per pair) than Turner and the dealer. Another red flag: no mention of "ZKW" in the part description. I asked the rep to clarify whether they were ZKW branded units and he said "that's the listing that comes up when I search for those [BMW] part numbers". Note the subtle difference between that response and the answer I expected. Why must everyone speak in tongues? The rep added that ECS policy is to not charge until they ship but the website told me everything I needed to know -- their estimated ship date was in two months.
At this point I hadn't heard from Turner and considered the possibility that my email got lost in the spam filter so I decided to call them. That rep told me the parts were out of stock, obtained from a vendor from whom they ordered at most once every six months, and they would probably be 3-4 months out if I ordered today. Frustrated, I abandoned my search for the day only to receive a response to my earlier email from another rep at Turner who told me that he had just spoken with their supplier and they had promised delivery of the parts in about a month. He also mentioned that they don't stock the headlights anymore because of low demand: "the car is too old". Ouch. The rep also confirmed that if I placed the order now I would not be charged until the parts arrived at their location (note: not when shipped) but since Turner tends to ship quickly I considered the policies more or less equivalent.
By the time I got around to placing the order with Turner a few days later I clicked on the links I had bookmarked only to find they had been removed from the catalog. Searching revealed nothing so I sent mail to the same rep that had responded earlier. Long story short, the old listings had been retired and new listings just posted, the only real difference being a notation that the parts are now special order only. I placed the order at that point and am now playing the waiting game. I'm hoping I'll see the headlights before Thanksgiving so I can use that long weekend to install them.
The shipping delay, while tolerable at the moment, may present a problem in the future if a lense cracks. It appears that no reputable vendor sells replacement glass. This means two things: I'll be installing Lamin-X or an equivalent protection film on the new parts when they arrive, and eventually buying a spare set of assemblies just in case.
Mileage: 252525