Friday, November 27, 2015
Oil Service
With a mere 2945 miles on the odometer since the last oil change I realized that I had long passed the recommended calendar time oil service interval of 6 months so I gathered a spare quart of black-bottle 5W-30 and the 5 quarts of blue bottle 5W-30 I purchased from the dealer earlier this week and performed an oil service.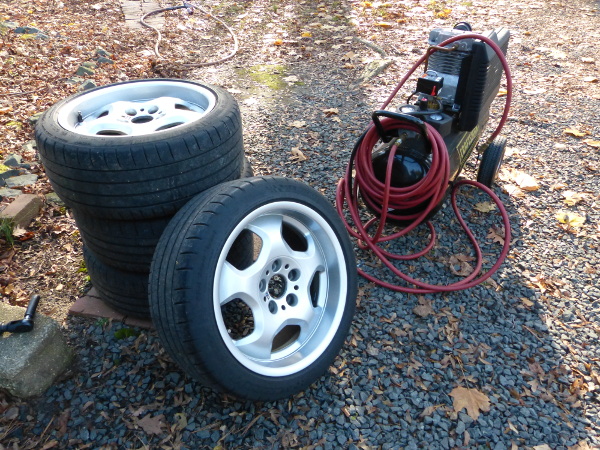 I did not have any sample bottles and I didn't really see the point in collecting an oil analysis at this point since it would have likely told me nothing new. I let all the oil drain into the basin and poured it into my 5 gallon drums which continue to make delivering used oil to my recycling facility clean and easy.
Winter Tire Swap
The last few weeks I considered whether to wrap my winter wheels with a new set of Winter Sport 4D or just use my existing set. The decision turned out to be more difficult than expected given that I found Tire Rack offering a set of four for about $370 shipped after an $80 rebate. That's a great price for what I've determined is a great winter tire. Of course mounting and balancing would add a bit to that number, taking it closer to $550 but that's still quite reasonable.
I ultimately decided to stick with my existing set, however, for several reasons. First is the fact that I'm no longer commuting, and that significantly reduces the pressure to drive in less than hospitable weather. Second is the reality that even if I am caught in snow the present condition of the tires will no doubt get me home. And then there's the reality that, while I have always been quite prudish with my spending, my priorities now favor my new business. The electronics test equipment I need to validate my designs doesn't come cheap, I can assure you.
As I mounted the tires an inspection revealed the fronts are well above the winter wear bars, but the rears are at or near the bars. This will no doubt contribute to less than ideal handling in snow, but something tells me worn Winter Sport 4Ds will handle better than your average all-season so I'm still ahead of the game.
More Rust
The latest slap in the face came while drying the left rear quarter panel following a brief wash. I noticed significant bubbling in the paint not far from the rust I discovered prior to the paint work near the intersection of the rear fascia and the wheel arch. It's obvious now that the panel has serious corrosion problems that I will need to address next spring.
While it's safe to say that the corrosion is due to salt exposure and that the damage is already done, this has highlighted the need to get the E36 out of the salt as quickly as practical. Sadly, that will not happen this season, but I remain hopeful that I can find something to take its place sometime in 2016.
Mileage: 261695