Monday, April 27, 2015
Full Size Spare Update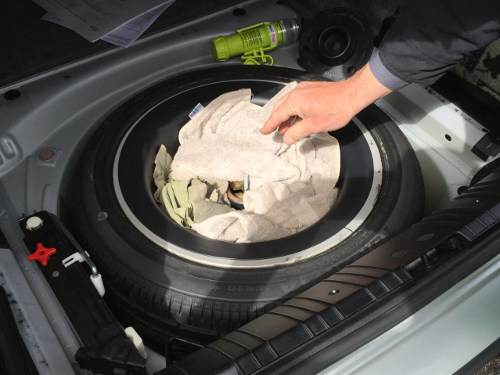 While visiting my technician today to discuss the E36 I mentioned the issues I encountered following the installation of my full size spare, namely:
The trunk floor does not sit flush with the body rails.

As it turns out BMW provides a special raised trunk floor (part number 51478266559) to address this need. Conveniently, my tech drives an E46 and pointed out that his car is equipped with this part so we went out to look at it. Sure enough, the raised floor is a nice piece. It's molded such that it provides an additional 20mm or so clearance for wider wheels and yet fits flush with the frame rails on each side. It looks like a "factory" solution because it is. To use this floor panel correctly BMW provides a foam pad (part number 51478264043) that attaches to the plastic center support as required to take up the clearance that would otherwise exist.


The threaded rod is not long enough to reach the retainer.

Apparently I am suffering from E36 on the brain and I experienced what we call in the aviation business as "negative transfer". In that car the spare must be placed in the trunk with the face of the wheel upward because the charcoal filter used as part of the evap system is mounted to the trunk floor and takes up the space inside the wheel. With the E46, the spare tire is supposed to be installed face down and (here's the kicker) another part (71111095393) installed to take up the space inside the wheel (see the picture). This serves the essential function of locating the retaining cup and wingnut at the correct height on the threaded rod.
Guess what parts I'm buying?
As a matter of trivia, before I became aware of BMW's factory solution to these problems I modeled and quoted a replacement retaining cup that was sufficiently deep to allow the spare to be mounted face up, mimicing the E36 installation. Cost for 100 units punched out of stainless? $5800 including NRE (non-recurring engineering, or tooling charges).
The price turned out to be a non-starter but it reflects the reality of manufacturing parts in small quantities. While some might consider the hours I spent designing that a waste of time in fact I came away with the experience of modeling the tooling so if I ever want to have metal stamped or hydroformed in the future I won't have to pay others to do the design work. This also allowed me to better understand the costs associated with the stamping process. What can I say but live and learn.
Mileage: 19284