Wednesday, November 11, 2015
A Brief Year In Review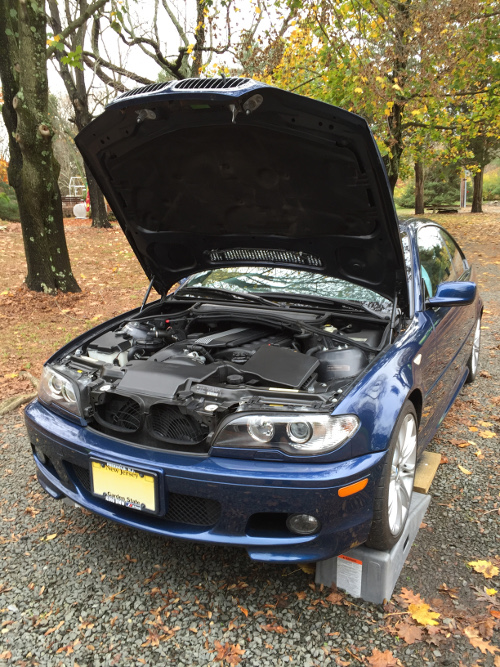 The E46 came out of play twice this year: first, for a period of roughly three weeks in late summer when I was forced to bring the E36 back to the paint shop to correct some crazed clearcoat, and second, a period of a bit over a week later in the fall as the E36 headed back to the dealer for the HVAC overhaul and carpet replacement. But as I'm no longer commuting I was able to spare the E46's odometer the increment of roughly 2000 miles that would have otherwise occurred. So the E46 escaped 2015 with just a few hundred miles on the clock.
Despite the relatively few miles I came to fall in love with the E46 all over again thanks to the Pilot Super Sports I installed in the Spring. I found them as transformational to the handling of this car as they have been to the E36. A bulk of the understeer is gone and skittish handling is no more. Good riddance, runflat tires.
Steering Wheel Airbag Notice
Late this summer I received another airbag notice. I didn't give it much thought at the time, thinking that it was just another copy of the letter for the passenger airbag, but it turned out the airbag in the steering wheel is the subject of a different campaign. The reason for the recall is the same: overcharged / exploding gas generators.
While this might come as somewhat of an annoyance to others I welcomed the news, as that airbag is the only one in the car I really care about and I actually want it replaced now that it's nearly 10 years old. Long story short: next Spring I'm getting a new driver's side airbag for free. If you have a late model E46 and haven't received the notice call your local dealer with your VIN to confirm whether your vehicle is covered by the campaign.
Oil Service and Winter Prep
With little more than 1/4 tank of gas remaining and the weather cooperating, today seemed like a good opportunity to put the E46 to bed for the winter.
I began by putting a few ounces of fuel treatment in the tank and then took the car out on my local curvy test loop to mix the additive with the fuel and warm up the engine in prep for an oil service with 7 quarts of the new formulation BMW 5W-30 sold in the blue bottles. I could once again see through the oil pouring out of the sump but once in the collection basin it looked every bit ready to be recycled.
With fresh oil now circulating through the M54's veins I pulled the car into the garage, attached the Battery Minder, locked the doors and installed the cover. Until next spring...
Total Mileage: 19680