Saturday, September 19, 2009
State Inspection Passed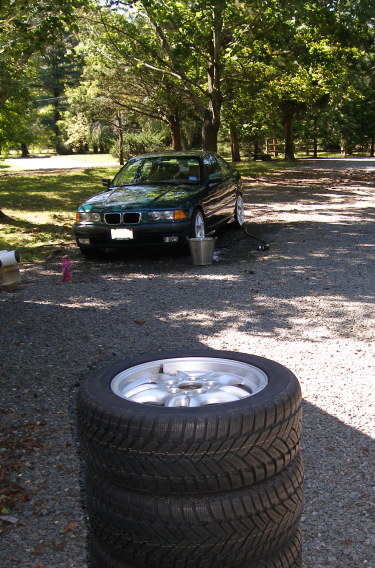 Earlier this year I briefly questioned my sanity for spending $2500 to replace the E36's catalytic converters and oxygen sensors. Today, however, I received vindication of that expense as the car sailed through the New Jersey state emissions inspection in less than 10 minutes. No CEL, no stored codes, nothing. Just a report with "All emissions equipment is functioning normally" and a new PASSED sticker on the windshield stamped with an expiration date of two years hence.
New Winter Tires
In a period of relative financial calm I decided this week to purchase a new set of winter tires to avoid the rush and predictable price gouging that occurs as the weather turns colder. Last December Dunlop SP Winter Sport M3 in 225/50/16 were $150 + shipping, but I just picked them up for $129 each, saving $21 per tire. The savings isn't huge, but it's better in my pocket. I also managed to negotiate a reduction in the price to mount and balance the tires at my dealer. Rather than the "new labor price" of $50/tire we agreed that $40/tire was more appropriate, particularly given that 16" wheels are easy to mount.
Usually I buy five tires and ask my technician to make a set of the best four but I didn't have that luxury this time around since my spare was still like new. When I picked up the tires I was eager to find out how he made out and I wasn't disappointed. The road force numbers were 16, 16, 11, and 7. Two of the tires were higher than I'd like but still under the BMW specification of 18 lbs. And for $129 a tire (nearly half the cost of my 18" Michelin Pilot Sport A/S), I couldn't complain. I won't know how they feel until I mount them in early November but since time is flying faster than ever it seems it won't be long until I get the chance.
When I got the newly mounted and balanced wheels home I used my polisher with some Menzerna Intensive Polish to clean up the clear and was amazed at how well they came out. The polish easily removed the dirt and fine scratches left behind by the old wheel weight locations and generally made them look like new. And that's saying a lot given that they've been in service a majority of the time I've owned the car.
Mileage: 182612, Parts: $555, Labor: $171