Sunday, October 11, 2009
Oil Service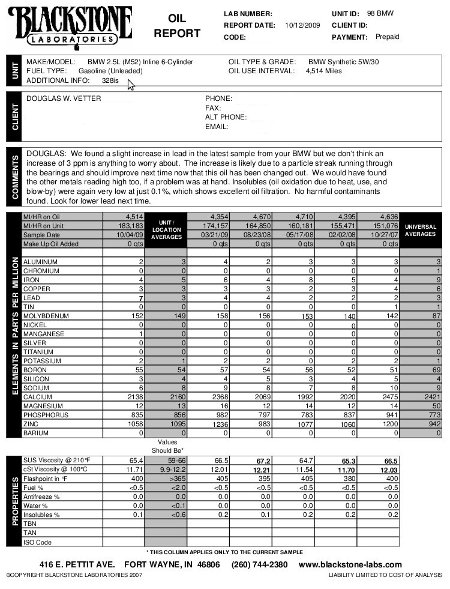 A couple weeks ago a review of my maintenance schedule spreadsheet indicated 4500 miles had passed and it was time for another oil change. Last weekend I accomplished the service with only one snag.
When I pulled the copper sealing ring from the filter kit packaging I noticed it was oblong rather than circular so I knew it wouldn't fit over the drain plug. This was obviously due to a manufacturing defect but not one important enough to cancel the oil service. The solution was easy enough -- reuse of the existing sealing ring along with judicious use of the torque wrench to achieve the usual 18 foot-pounds.
Last time I decided to skip the oil analysis so I took another sample this time around. As you can see, the report indicated slightly higher lead, which is found in bearings. That sounds bad, but I agree with the analysis. 3 PPM is in the noise, so to speak, and I consider this an uneventful report. However, as is normal practice with any oil analysis program, I do plan to follow up with another sample at the next oil service to put the issue to bed.
Mileage: 183183, Parts: $45, Labor Saved: $100
Filters
My spreadsheet also kindly informed me that the vehicle had not only passed the 30K interval recommended by BMW for the engine air filter but the 15K interval for the microfilter as well, so I picked up the $70 worth of parts from my local dealer earlier in the week and accomplished that work today.
The engine filter replacement has always been a no-brainer on this car so it's not really worth mentioning, except to say that if I had the dealer do it I would have likely spent another $36 in labor.
I have the procedure to replace the microfilter down to a science so it took only 10 minutes to complete, including a thorough cleaning / vacuuming of the airbox. Not a bad investment for a labor savings $72.
Mileage: 183475, Parts: $70, Labor Saved: $108