Wednesday, June 9, 2010
Rear Suspension Overhaul Update - Parts Sent Out for Disassembly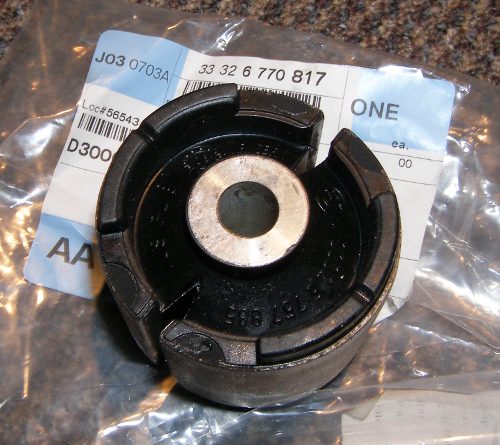 On Monday I managed to get up reasonably early so I could run over to the dealer and get the core credit on the axles and then run the suspension parts over to my local indy technician, Mr. M Car, which just so happens to be located at one of my old stomping grounds, and the location of my first skydive, Monmouth Executive Airport. I arrived to find Don, the owner, in a nondescript hangar filled with an assortment of nice cars, most of which were BMWs.
I told him that I wanted all the bushings, ball joints and bearings removed from the parts in prep for refinishing. I also mentioned the need to MIG weld the swaybar tab reinforcement kit to the subframe and he told me that he knew a fabricator on the airport grounds that could do a fine job. He even read my mind when he told me that the kit needs to be installed properly or else it would interfere with the swaybar mounting tab or the hardware used to fasten it. My instincts told me this wasn't Don's first rodeo and I figured I'd found the right guy for the job.
As I looked around the shop I saw a couple engines in various states of assembly as well as some tasteful memories of money-shfts gone by and the proverbial light bulb illuminated in the dark chasm that often masquerades for my brain. I asked him whether he could install new bearings and seals in my differential and help prep it for refinishing. He quickly admitted to his share of knowledge of BMW differentials, including his insistence to use German bearings (SKF or FAG) rather than cheap Chinese crap. So, rather than haul that 80 lb bag of concrete up to Massachusetts and back, and pay Dan a cool grand for what is just this side of a spray paint overhaul (no gear changes or LSD upgrade), I told Don I'd bring my differential to him later in the day, and that's exactly what I did.
Since there wasn't much for me to do on the car while I waited for Don to prep the parts I went back to the salt mine on Tuesday. Last night I managed to place yet another order with Tischer to cover a few miscellaneous parts I'll need for reassembly. First and foremost was a replacement for the ABS sensor ($110!) I broke during disassembly. While under the car I could not overlook the rubber hose that connects the fuel filler tube with the fuel tank. It looked so heat damaged and brittle that I considered that an essential replacement for safety reasons. The only problem? That simple hose is $66. I also ordered four (4) new large retaining washers for the subframe simply because the old ones were rusty and some simple math convinced me it would cost more to prep and paint the old parts than it would to buy new. I expect that order to be here Friday or Monday at the latest.
I also noticed that during disassembly the electrical plug that connects the body harness to the brake wear sensor practically disintegrated in my hands (12 years of exposure to countless heat cycles will do that to plastic). I failed to find the plug in the ETK so I went to the dealer. The parts guy couldn't find it either so he called the BMW tech line and they gave him what we both hoped was the correct part number. It's on order and I expect to see that later this week as well.
And if you're wondering about the picture, that's a closeup of the new "split" style trailing arm bushings that were reportedly originally developed for the Z4 M Coupe. The TIS recommends replacement of flange-type bushings with the new split type, so this is not exactly an out-of-the-box upgrade. I can't wait to get the car back on the road to try them out.
Mileage: 193332, Parts: $245, Parts Saved: $80