Sunday, October 14, 2012
Wurth True Glide
When I replaced the sunroof cassette a few years ago I noticed very little grease on the rails of the new cassette. While the cassette operates far more smoothly than the original and I know that is due largely to the lubricant in the cable guides, which are impossible to re-grease unless you pull the cables out, a modest amount of grease on the rails is important to reduce friction and load on the motor. I would have added some grease but I wanted to find the right grease for the job, and a couple weeks ago I did -- Wurth True Glide.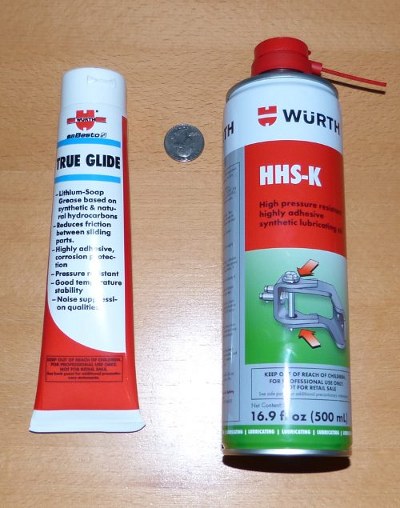 Wurth describes True Glide as a "lithium soap grease based on synthetic and natural hydrocarbons". They also note it is highly adhesive, corrosion protectant, pressure resistant and stable over a wide range of temperatures. It also lacks any VOCs which should make the eco-nazis orgasm. The instructions specifically note applications like "sunroofs, door hinges and sliding rails" and that's exactly how I intend to use it.
To reduce the impact of shipping costs I ordered two tubes ($17 each) from Bavarian Autosport -- the only online supplier I could find with it in stock -- all the while knowing that one 5.3oz tube would likely last me the better part of several lifetimes. A good grease is like that -- a little goes a long way.
To test it I grabbed a flux brush from my electronics bench and applied a small amount to the inside edges of each sunroof rail. I found the grease to be identical in viscosity and color to the grease installed on the sunroof cassette from the factory so I think it's fair to say this is what BMW uses in this application. Naturally, the sunroof is perfectly smooth and silent in operation now.
Wurth HHS-K / 2000
While researching True Glide I came across another Wurth product called HHS-K (previously marketed as HHS-2000), which is apparently THE lubricant for door hinges because of its special properties: it applies as a penetrating oil and then, apparently as the carrier evaporates, dries to form a load-bearing grease.
Normally, any high pressure joint like a door hinge requires a grease, since straight oil wouldn't provide a thick enough protective layer and the result would be metal on metal (albeit at a reduced frictional coefficient). but in order to properly grease a hinge it has to come apart. Since NO ONE pulls their doors off to lube their hinges, HHS promises a unique solution to this problem.
I had more difficulty locating HHS-K online but ultimately found it at Paragon Products. Again, to reduce the impact of shipping cost ($10) I ordered two cans ($20 each). Interestingly, the cans I received are labeled with "For professional use only: Not for retail sale". I'm not sure why this is the case. It may just be a bulk vs. retail packaging thing, or it may be because the label further goes on to say "Extremely flammable. Possible cancer hazard, irritant" and suggests to remedy skin contact with with "plenty of soap and water -- do not use solvents". I'm no professional, but I'll use it professionally. I promise.
Winter Wheel Prep
Yesterday I decided to take my winter tire set to the local tire shop to have them dismount the old and worn Winter Sport M3s. As I hauled them out of the garage I decided to throw my set of CSLs in the back of the pickup and have those tires dismounted as well. The shop agreed to $10/ea plus $1.50 per discarded tire so an hour later I picked up my wheels and the two spare tires I chose to save from the scrap bin.
Based on a close inspection I've decided to send the spare wheel (known to be bent), as well as a sixth wheel I had in storage (with cosmetic damage only) out for refinishing this week. Then I'll bring all six wheels to my technician which will allow him to dial-indicate them and pick the best five out of six. I haven't decided whether I'll remount the basically new Winter Sport M3 as a spare but that will clearly help offset some of the wheel refinishing cost. The notable downside to that option is that it could result in less than predictable traction if I have to ride on the spare in winter conditions. As a pilot I tend to be prepared for anything, so I may just go for five new tires and consider the spare tire what it really is: a sunk cost.
I still haven't decided what tires I'll use this winter but I'm leaning toward the Pirelli performance winter option. I briefly considered Nokian as they have an excellent winter weather reputation but they're only sold in the US in my area at a large chain store and they're pricey as well. For giggles I called Tire Rack to ask why they don't sell them and they indicated they used to sell Nokian but found the company had problems supplying inventory consistently. A call to the local chain store revealed they would not be able to get the Nokian tire I wanted for "about 4-6 weeks", and this confirmed the Tire Rack rep wasn't blowing smoke just to sell me something he had in inventory. At that point I dismissed Nokian as an option and cursed the loss of a good half hour of my life I'll never get back. Open recommendation to Nokian: Get in the market and stack tires to the ceiling here or just go back to Finland.
More Parts and Plans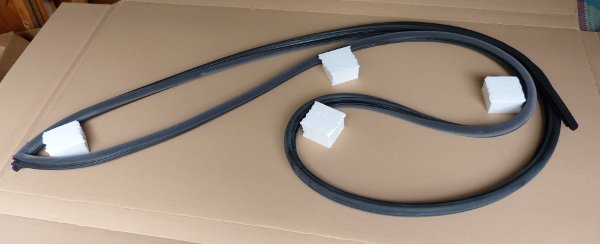 Last week while detailing the car I finally grew tired of looking at the dried and tattered driver's side door seal so I ordered the part. $280 later it arrived oriented in its own custom box. Next month I'll order its passenger-side mate. I will not be installing either, however, until I install the exterior roof ledge moldings, etc, and that won't be until after the car is painted.
And speaking of painting, due to the progression of rust on the car, body work is now the highest priority. Since I can't do that until next spring when I can put the E46 into service, that pushes the interior overhaul out to next summer. And it's probably just as well for a number of reasons, not the least of which is my desire to enjoy the smell of new leather...not new leather masked by the stench of "body shop".
In the meantime I'm considering replacing the crappy US-spec halogen reflector headlights with ZKW OEM halogen projectors to increase safety on those dark winter drives home. And no, I'm not planning on installing angel eyes or HIDs, as they are not historically accurate for this car, are known to cause issues with the OBC's lamp failure circuitry, and are illegal because they aren't self-leveling. Not that any of this stops people from bastardizing the beautifully understated styling of these wonderful cars, but I won't be a part of it.
Mileage: 226390, Parts: $280, Labor: $120