Saturday, October 27, 2012
Refinished Wheels Arrive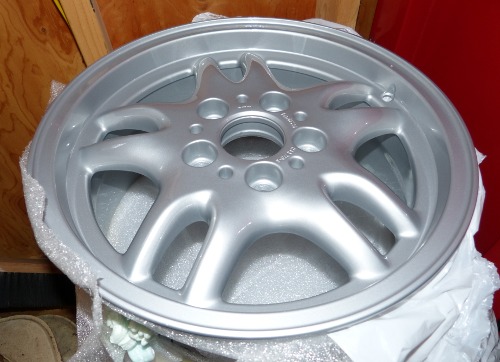 I must admit that I wasn't terribly happy with the finish of the Style 30 wheel I bought from Wheel Collision a couple years back. While the base coat was fine and appeared to match the OE tint, the clear was applied inconsistently, resulting in both orange peel and a speckled texture. Given the quality issues and the costs involved in shipping I decided to search for other wheel refinishers in my area.
After quickly eliminating at least three shops due to bad reviews I contacted the shop that I had seen doing work in a box truck at my local dealer. I called the company and learned that while they were able to do minor repairs in the truck I would have to bring the bent wheel to their shop in Matawan to see if they could fix it. For basic refinishing they quoted $125/wheel but that was for the face only (not a full strip and repaint as is convention with Wheel Collision). He added that he'd need to see the bent wheel to determine the costs to straighten it but suggested $175-200 as a reasonable estimate.
Since I did not have a lot of flexibility in my schedule and thus the time to drive back and forth to Matawan, I ultimately decided to take the path of least resistance and call Wheel Collision. I told them about my quality concerns and the rep assured me that they would be addressed. Cost? $150 for refinishing + $25 core charge (refundable if I return my wheels) + $20 shipping, or $195 each. They told me they don't refinish every wheel in inventory and would have to refinish these before they could ship but I told them that was okay because I wasn't in a rush.
I picked up the wheels today and anxiously opened the boxes to find them nicely wrapped with protective closed cell foam and cushioned with four million (give or take) foam peanuts. Aside from a couple small defects in the basecoat on one wheel I'm happy with the finish this time. I must point out, however, that the finish is still not as good as OE, but that is to be expected given the differences in paint equipment and processes.
Winter Tire Research Continues
I discovered this week that the Pirelli Sottozero Serie II (the performance winter option) is no longer available in 215/55/16, at least from Tire Rack. What's worse is that the 225/50/16 version I originally wanted to use commands a $40 premium, apparently because it is a Porsche OE size. Show me how that tire is $40 better than its one-size-smaller brother and I'll buy it.
My technician has in the past recommended I stick with Michelin and Continental tires as he has found them to have the lowest eccentricity (road force numbers) so I took a closer look at both of those options. The Michelin X-Ice3 (latest in that line) is too new for any decent reviews but the few I read of it and its predecessor (X-Ice2) indicated that the tires, while quiet, suffer from lackluster performance. Tire Rack offers the Continental ExtremeWinterContact, but not in 215/55/16. 1010Tires.com does offer it in that size (thus proving it's available), but as they are on the west coast and lack an east coast warehouse, shipping time is roughly 10 business days and runs $25/tire. That's crazy.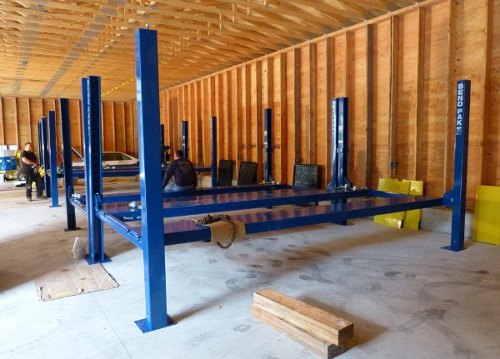 If I can't get Tire Rack to special order the Continental or find it at a local distributor (since tax and shipping will likely be similar in cost) I'll likely go for the Pirelli Winter Carving Edge. And I may just do that in any case as they're running a mail-in rebate right now that brings the cost of four down to $480. I know from experience shipping from my local warehouse will be $10/each and that should bring the total back up to $520 but that's still within the realm of reason for a set of winter tires that should last at least two seasons.
Toybox Update
It's been just over a year since I last reported on the progress of my brother's toybox and that's because there really hasn't been any. He's been spending every waking moment and spare dollar building his business. Today, however, I discovered a crew in the garage installing some new four post BendPak lifts. At $2950 + $850 for installation (each) I think he made out but the two post lift was not part of this deal.
A brief "preflight inspection" revealed the BendPak units to be of good quality. They are rated at 9000 pounds each, and like all lifts subject to ALI certification, underwent testing at double the rated load, or 18000 pounds. The steel cable appears to be 3/8" in diameter and the terminations are substantial. As I've said before I'm not a fan of the nylon guide blocks but all the lifts in this class except for the Mohawk use them and I'm sure they'll last a lifetime in this very light duty application. The obvious upside to all four post lifts is that they don't have to be bolted to the floor (important when you have in-floor radiant heat), and these lifts in particular can be moved relatively easily (unloaded, of course) using the provided casters.
I watched briefly as the installer put close to four gallons of hydraulic oil in the reservoir of one of the lifts, connected a compressed air source to unlock the safety locks and performed an operational test. I didn't bother to stick around for the others because I needed to run a few errands this afternoon in preparation for the arrival of Hurricane Sandy, which at this writing is forecast to follow a unique track and hit the NJ coastline head-on in a couple days. Needless to say it's times like this I wish I had my own toybox to protect my toys. Perhaps soon.
Mileage: 226969, Parts: $415