Wednesday, September 28, 2016
Detailing To The Rescue
After spending far too many hours on Saturday working on the E36's stuck caliper problem I awoke Sunday morning at around 8:30, only to go downstairs and get a somewhat panicked text from my brother. He told me he had bought some kind of wax product at a local car show and applied it to a few areas the hood of his otherwise mint-condition C4 Vette in prep for entering it in a Vette-related charity car show...only to have the product do very nasty things to the clear.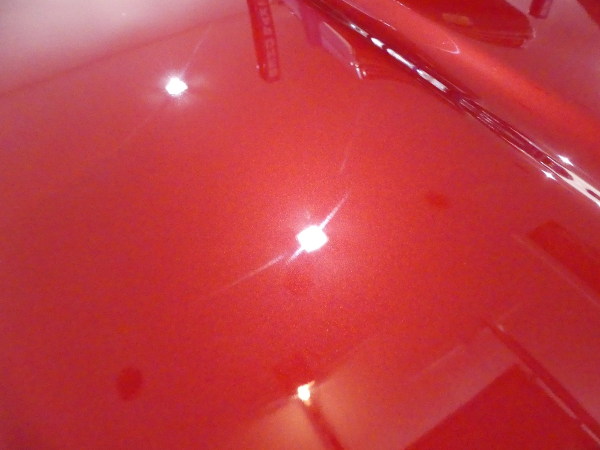 "Could you come over and buff this out for me before I go? I have to be there at 11AM." Glancing at my clock I saw 9AM. My internal scheduling subroutine kicked in as I glanced down at my slippers. 30 minutes to get ready, 20 minutes to his place, less his travel time equals maybe 30 minutes to do a job I know instinctively will take at least 2 hours. Not possible. Despite being somewhat embarrassed to show the car he nevertheless attended the show and asked me to swing by later in the day to see what I could do. Fair enough.
That afternoon I arrived to find the clear in generally good shape, albeit with lots of swirl marks typical of the many washes it no doubt received from the prior owner. This meant if I touched one part of the hood with any abrasives I'd have to do the whole hood. I started with Menzerna Intensive Polish. I don't use this very often mostly because I don't need it on my cars (it helps that I keep the finish well sealed), but also because it produces a lot of dust that requires an intermediate wash. Nevertheless, when applied with an orbital polisher like my Porter Cable 7424XL the results are generally quite good. After swapping in a new high cut pad I did a single pass of Menzerna Final Finishing polish and ironically it was this step that removed the bulk of the remaining blotchiness left behind by the "wax" my brother applied.
The overhead LED lights turned out to be a blessing, since they helped to highlight every imperfection in the clear. I was just about to apply the sealant but noticed that some of the blotchiness was still present when viewed from certain angles so I applied more Final Finish polish in these areas to finally eliminate the defects. I wrapped up the job with a coat of Menzerna Power Lock Sealant and found myself quite happy with the results.
So why am I reporting on detailing a Vette in a BMW blog? Mostly to point out a lesson I've learned over the last 25 years maintaining (and correcting where necessary) the paint of my own vehicles: The trinity of detailing consists of clay bar, high quality abrasives (which means abrasive particles of uniform size), and sealants. The best products target each of these three areas individually and do not attempt to combine these functions like the shitty product my brother bought at the car show. Avoid products that boast more than one function.
Total time? 2+15 with a couple of very short (2 minute) breaks. The slap in the face? As I'm pulling out my brother stops me and asks "so....when can you come back and do the rest of the car?" Thinking of my upcoming 80+ hour work week I couldn't but help but laugh manically, then relent. "Maybe next weekend".
First Real World ZKW Headlight Test
I installed the ZKW Euro Projector headlights just before the summer solstice and then took the car out of service during the new leather project so I had no opportunity to test the headlights under real conditions...that is, until a certain brother of mine asked me to work late on his Vette coincident with our region's inevitable slide into the hell otherwise known as Winter.
On the way home I could not believe how much better the ZKW headlights illuminated the path forward compared to the shitty US / DOT spec reflector assemblies. Many people said the projectors were much better but I cautiously considered confirmation bias as a possible explanation for these glowing reviews. I'm happy to report that everyone was right. These projectors rock. My E36 is no longer legally blind.
The most obvious change is that the light is now spread all over the road quite uniformly, as opposed to the DOT spec lights which created two narrow beams canted sharply to the right of the centerline of the road. The vertical cutoff of the projector beam is surprisingly visible, as is the sharp up-tick that is designed to illuminate signs on the right side of the road. In fact, the uptick illuminated the retinas of several deer on the way home and I was able to see them on a remote country road lacking any street lights without using the high beams. And speaking of high beams, those appear better too...which is a bit surprising considering they're reflectors and the beam pattern is similar to the DOT spec parts, but they seem to reach out farther. This may very well be a result of an improved (correct) alignment more than any physical differences in the reflectors.
The drive home also convinced me why retrofit HIDs aren't a good idea inside these housings, even if you take the time to properly mount the capsules in a projector assembly. Although the overall light output is not as strong as my E46's HIDs (though I wouldn't call it dim by comparison either) the vertical cutoff is almost as sharp and the cutoff line moves up and down more readily because the E36 installation is not level compensated. I always knew this was a possibility but until I saw the effect of suspension compression and extension during normal driving over dips and bumps I didn't fully appreciate the problem. In short: you want better lighting on an E36? Install ZKW halogen projectors with your choice of halogen bulbs. Avoid HIDs unless they integrate a level compensation system.
CEL Remedied
I try to avoid visiting my technician on Mondays because, well, Mondays pretty much suck universally, whether you're a weary engineer like me or a BMW technician. But, as the remainder of the week promised to be a rainy mess and today was damn near perfect, I texted my technician asking for a few moments of his day. He agreed.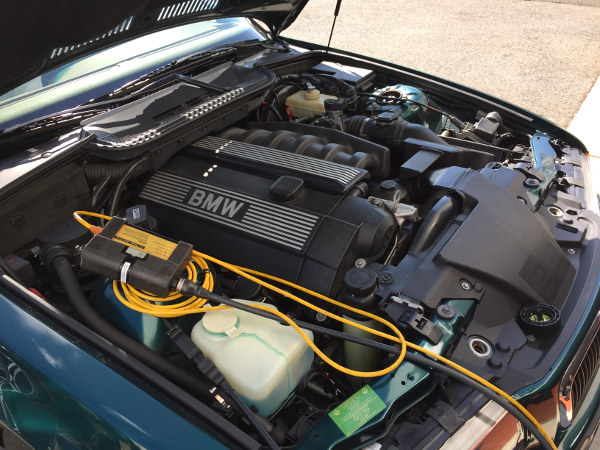 Upon my arrival we once again connected the diagnostic system and it revealed -- "evaporative system leak - minor". In other words (at least typically), a loose fuel cap. This was a surprise because I had already checked the cap, as I do now after every fueling and it was not incorrectly secured. All I could think to do was replace the rubber seal on the fuel cap, but alas, these are not available separately. My technician looked over the fuel cap, pronounced it every bit of 18 years old, and advised replacement.
While futzing with the diagnostic system and the car idling my technician and I noticed the aux fan kick into high speed mode. I'd seen that earlier this year, but it was warmer then. My technician walked over to the car and waved his hand near the fan, as if summoning the demons that lay within. He then stuck his fingers into the fan with the confidence only a seasoned tech could muster and it stopped immediately. A flashlight and a mirror tool confirmed the diagnosis -- oily dirt on the face of the clutch cooling fins, which means the clutch is toast. I ordered a new one.
I last replaced this part during my accessory overhaul in 2010, or six years and roughly 70K miles ago. That's not as long as I had the prior part in service, but this is very often a quiet failure so who knows how long I was running around with the part in a similar condition.
Upcoming Projects
The E36 hood release consists of two cables -- one that goes from the interior handle to the first of two hood locks, and then another cable that interconnects the first hood lock with the second. The last time I had the cable exposed during the ZKW headlight installation earlier this year I noticed that the wire core was almost completely corroded through. Although I put the job off at the time because I had higher priorities I have decided to tackle this project before winter because the last thing I need is a snapped hood release cable when it's freezing outside.
Another review of my maintenance schedule worksheet notes that I'm well beyond my service interval for a power steering flush, so I'll likely tackle that when I do the new fan clutch.
One of the last parts remaining in my garage is a transmission fluid & filter repair kit I purchased earlier this year. With over 100K miles on the transmission now I'm probably playing with fire doing a fluid and filter change at this point. For that reason I may wait until next year to do this just in case I wind up having to do a transmission replacement, because if I am forced to do that I'll be overhauling the engine at the same time.
The fun of maintaining an old BMW never ends.
Mileage: 264300