Februrary 21, 2006
In the beginning, there was a driver. And the driver said, "let there be a BMW with my name on it", and it was so.
The deed is done. Today I placed an order for a 2006 BMW 330ci, Mystic Blue exterior and gray leather interior. How'd I do that when E46 production was halted some months ago? Simple. BMW recently restarted production. The exact reason for the restart is unknown, but the speculation is that the E90 Coupe development schedule has slipped and BMW needed to satisfy short-term demand for coupes. I wish the powers-that-be had come to this conclusion a bit earlier, as availability of the E46 coupe would have negated the purchase of the RSX, but whatever. I'm just glad I'll be able to drive a new BMW, and an E46 at that.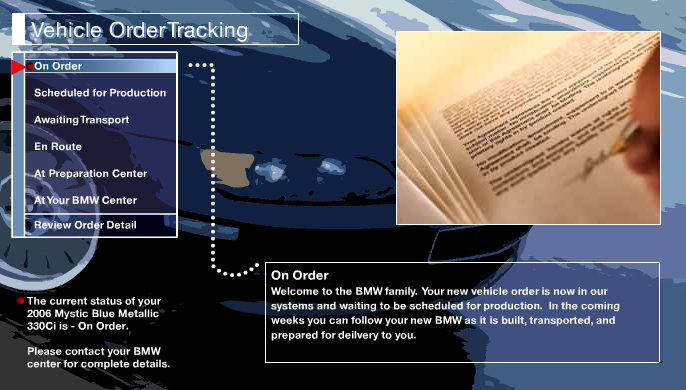 I wrestled with options for some time, but in the interest of resale value omitted only Navigation and Park Distance Control (PDC). I left out Nav because it would complicate my planned stereo upgrades and skipped PDC because it's one of those "Amercianized BMW" options that I knew I wouldn't use. And truth be told, I heard that while the option was only $300, that's nearly the retail cost of a single sensor. Get a love tap from the rear and you're out several hundred dollars in sensors alone. No thanks.
A few other option-related technical issues came up. I knew there was only one guy to talk to, so I strolled back into the service area and chatted a bit with my mechanic.
The first issue at hand was HID headlights. While I love the efficiency, color temperature and general performance of HIDs, I don't like that they create glare and flicker for other drivers. I also don't like that they're a theft target and that BMW's lights in particular are motorized, adaptive units. The KISS principle applies here and mechanization means a greater potential for failure. It turns out that the shop hadn't seen any significant issues with the HIDs, so that made the decision to go for them a bit easier (though at $800 still hard to swallow). But I suppose the real driver for HID lamps was the fact that I was effectively buying a loaded car, and to NOT buy HIDs when they are practically a signature component of the vehicle would dramatically reduce its appeal in the aftermarket.
The second issue was in regard to the auto-dimming mirror. The mirror is only available as part of of the premium package, but that included some technology (BMW Assist and 4-way lumbar support) I could do without. Unfortunately, he told me that while BMW technical literature apparently suggests it's possible to retrofit the auto-dimming mirror, his personal experience indicated otherwise. I didn't get into specifics, but it was pretty clear that if I wanted the mirror, I had to buy the premium package for an additional $600.
The final issue was regarding the Performance Package. My E36 came with the sport-tuned suspension and 16 inch rims. In spite of being as careful as possible, I bent two rims over the years in a couple of "oh shit" moments, so I was a bit apprehensive about buying the E46 Performance Package and its 18" rims. My mechanic noted that he had seen many an E36 arrive in the shop with bent double-spoke rims, so they were apparently predisposed to that problem. However, in the same breath he noted that they've not had issues with rims bending unless the tires were seriously underinflated (a more common problem than you might think). I tend to run higher pressures for performance reasons and monitor pressures regularly, so I don't expect that to be a problem.
The Acura will be traded next week because it would otherwise suffer the greatest loss in depreciation over the next few months, but frankly I won't be shedding any tears at the loss. The car never did live up to my expectations -- which are now astronomically high thanks to BMW. I mean, really. Thanks. :-) The one thing I WILL miss is XM radio, but I'm planning to install that along with an Ipod interface shortly after delivery. New amplifiers and speakers will follow eventually.