Friday, July 21 2023
Essential Maintenance
I recently closed on a tract of land in a southern state, so my long planned egress from my home state of New Jersey will soon become reality. I won't be moving directly there, however, as the house has yet to be built and it may take a few years to get that done. In the interim my sister has offered me her spare home near a popular beach in Florida so I'll be moving there by the end of the year following some renovations.
The good news is the interim house has a garage, so my daily driver (the GTI) will not spend all of its time outside anymore. The bad news is the garage will not accommodate either of the BMWs so I will be forced to leave those behind in New Jersey until my home is built. This explains why I recently elected to perform some essential maintenance on the E46 before it is returned to its storage location to sleep for a few more years.
First Start In Four Years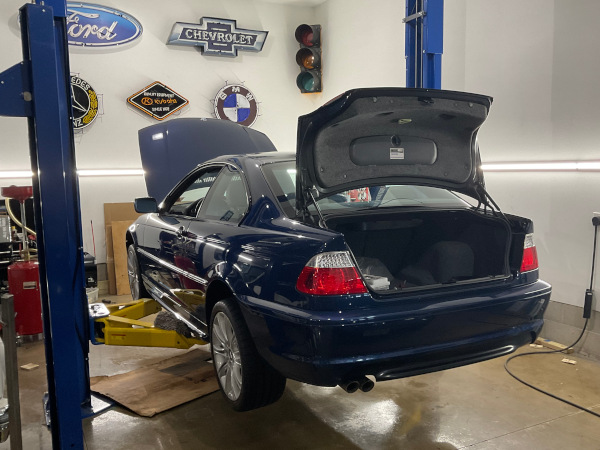 For the last four years the E46 has been stored in my brother's climate controlled garage at the top of a four post lift, under a cover, and with an intelligent charger maintaining its battery. I naturally expected the first start on a ten year old battery and four year old gas to be weak and rough, but I was pleasantly surprised when the engine started confidently as if no time had passed. The only thing I noticed after the start was was a slight valve tap but that was to be expected. Fortunately, following a couple short runs around town, that disappeared.
Passenger Airbag Replacement
The last three years I have been inundated with mailings and robo calls about the recall associated with the remaining Takata airbag in my E46. In fact, I've probably received at least 3-4 mailings and two robo calls per month, on average, about the issue. I would have replaced the airbag earlier but I could not conveniently access the vehicle -- that is, until now.
Replacement of the airbag is a fairly straightforward job and well within my wheelhouse, but the reality is I don't like playing with airbags in general as there is a real chance for personal injury if they deploy accidentally (i.e. due to static discharge), and I was even less interested in screwing around with an airbag that was recalled specifically because it was known to explode and send shrapnel everywhere, rather than deploy safely. So a couple weeks ago, with an inspection sticker long since expired, I brought the car over to the dealer so my technician could swap out the bag.
Per the BMW recall instructions he recorded the data off the tag of the old and new units and entered this information into BMW's records system. This act, I hoped, would finally put an end to the incessant mailings and calls. My technician mentioned at this point that BMW had issued a "stop driving" order for vehicles equipped with this airbag, but apparently little more than 50% of registered E46s had the bag replaced, so there are quite a few vehicles still on the road with the defective Takata units.
This brings me to point out that if you own or are in the market for an E46, I strongly suggest verifying that the airbag recalls (yes, plural) have been performed on the vehicle. The good news is that replacement of the airbags not only eliminates the threat of an explosion rather than a safe deployment, but also renews the effectiveness of the airbags for another seven years, which is the engineered lifespan of these units.
Battery Replacement
Before I started the vehicle I bought a new battery for it, fully expecting the existing 10 year old battery to have failed with a reversed cell or something similar, but oddly enough I found it in good shape. Despite its apparently good condition, however, a ten year old battery is one crank away from failure, so I elected to replace it anyway.
Since the core charge of the battery is only $20 it made little sense to return the old unit as it can be used for other, less critical, functions like my amateur radio hobby, so that will be put to good use.
Brake Fluid Flush
I'm once again ashamed to admit that I had last performed a brake fluid flush on the E46 a long time ago, and certainly well beyond the recommended two year interval. Thankfully, however, a lot can be said for storing a vehicle in a climate controlled environment. When I flushed the fluid this time I did not see any rust or other particulates in the fluid and it was merely a dark gold color typical of aged fluid. This was a very good sign.
Coolant Flush
I last performed a coolant flush on this car in 2016 -- a full seven years ago. As the car sat most of the of the last four years I fully expected the coolant to be in good shape but as the coolant's ability to prevent electrolysis deteriorates with age, I felt it necessary to refresh the coolant to the extent possible.
Of course, the most efficient way to drain the coolant is with the coolant drain plug located on the lower right side of the block but, as that typically splashes coolant everywhere, I elected not to do that in my brother's garage. As it was, I had to use the lift to lower the vehicle almost all the way to the ground to prevent splashing from the erratic stream of coolant coming from the radiator drain plug but this resulted in a lot less mess.
Like last time I only managed to get about a half gallon out of the radiator before the stream stopped but I'm betting that will be sufficient until I can perform a full coolant flush via the block drain in my own, yet-to-be-built, garage.
Oil Service
The last item on the list was a simple engine oil service. My service records indicated I had last performed an oil service in May of 2018, or five years ago. The oil was naturally a bit darker than the new oil but I could easily see through not only the stream but the oil in the drain pan, indicating that the oil was in generally excellent shape.
This oil service was different in that this is the first time I used a non-BMW branded oil. Primarily for cost reasons I used Castrol Edge 5W-30. Formulations change over time so there's no way to know this has any familial relation to "german castrol", widely regarded as a high quality oil that used to be distributed in green bottles, but it is A3/B4 and LL01 approved, meaning it meets BMWs standards. I've had good luck using the 0W-40 A3/B4 equivalent in my VW for the last 46000 miles so I doubt I'll be doing any harm to the M54 by using this oil.
Return To Storage
After I wrapped up the various services I worked with my brother to once again put the E46 at the top of one his four post lifts in his climate controlled garage, where I feel this vehicle needs to be to preserve its value. There it will remain until I finish building the home and can put both BMWs on an enclosed trailer for transport to it.
As I will be moving in the interim and not be in a position to do any regular service to this vehicle this blog will once again go into hibernation.